Prime Minister of St. Kitts and Nevis Reiterated Commitment to Gender Parity at the BPW Conference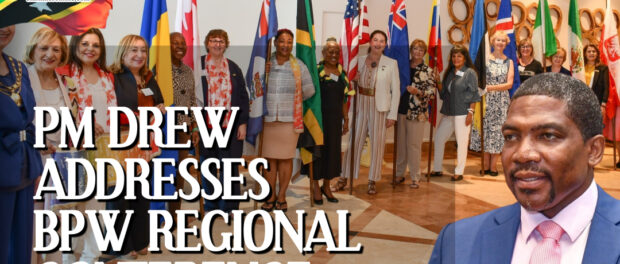 Basseterre, St. Kitts and Nevis, January 16, 2023 [Press Secretary's Office]: The annual Business and Professional Women (BPW) – North America and The Caribbean Regional Conference was hosted in St. Kitts and Nevis last week (January 12 to 14, 2023) under the theme "BPW MOVING FORWARD TOGETHER – STRONGER".
It was the first time in the history of the almost 100-year organization that a conference was held in the Eastern Caribbean.

There was representation from twenty-seven (27) countries present at the conference.

Prime Minister of St. Kitts and Nevis, Hon. Dr. Terrance Drew referred to himself as an advocate for gender parity during his presentation at the Conference's Gala, as he reflected on the theme for this year's conference.

He expressed his admiration for BPW and applauded their efforts for the advancement of women. He stated, "I applaud you for the tremendous efforts you have made over the years to promote women's business, professional, and leadership potential on all levels through advocacy, education, mentoring, networking, capacity building, and economic empowerment programs and projects across the globe."

Hon. Dr. Drew proudly boasted of having a parliament of which 47% of the members are women, "an exemplification of what it means to have a commitment to gender equity", he said. He further reinforced the St. Kitts-Nevis Labour Party Administration's stance on gender parity and described the administration as "progressive and innovative".

"We are a progressive and innovative Administration. We intend to address gender-related issues assertively. Our government's commitment towards gender parity can also be seen in our appointments to boards of Government Entities and throughout the Civil Service, where women have been given equal opportunity to serve in the highest advisory and technical positions. This is important, as the advancement of women is the advancement of all of us", the Prime Minister added.

Hon. Dr. Terrance Drew spoke of the rich culture and history of the federation and the numerous historical sites across St. Kitts and Nevis and lauded Hon. Marsha Henderson, Minister of Tourism, for her endeavours to transform the tourism sector.

"St. Kitts and Nevis was recently named "Number One Best Caribbean Country to visit by Travel and Migration Hub", and my hope is that you will bear testament to this based on your experience with us. Hon Marsha Henderson and her team at the St. Kitts Tourism Authority embarked on a campaign that not only generates demand but also emphasizes our destination's distinctive attributes. After months of hard effort and creative collaboration both locally and globally, we launched "Venture Deeper" as our new brand campaign at the end of September this year. Venture Deeper is intended to arouse in our visitors a desire to 'peel back' our layers to discover the true core of the place, and I trust you were able to do that during your short stay here", he stated.

Ms. Dawne Williams, a banker by profession, currently serves as the BPW Regional Coordinator for North America and The Caribbean (2021-2024). Ms. Williams was the first woman to be appointed Chief Executive Officer of the St. Kitts-Nevis-Anguilla National Bank.
###