Canadian Prime Minister Justin Trudeau on Vacation in the Beautiful Paradise of St.Kitts-Nevis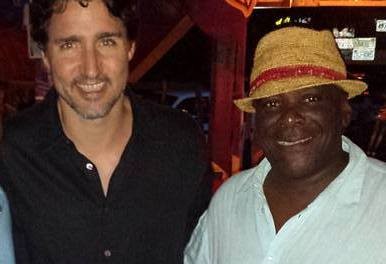 by Times Caribbean Online Staff Writer,
The very popular recently elected Prime Minister of Canada Justin Trudeau is currently on vacation on the beautiful twin Caribbean islands paradise of St.Kitts-Nevis. Although his exact location on the islands are unknown because of security reasons,  it is speculated that he is staying at one of the islands plethora of beautiful world class hotels and boutique inns.
Trudeau is the first child of well known iconic former Canadian Prime Minister Pierre Trudeau.
He led the Canadian Liberal Party to a fairly convincing victory taking 184 of the 338 seats in the Canadian House of Commons.
Justin Trudeau, who turned 44 on Christmas Day, is Canada's second-youngest Prime Minister and the first to follow a parent into office.
While the Liberal Party had emerged on top in several polls its lead was short of conclusive and Mr. Trudeau was an untested figure. There was no ambiguity, however, in the election results which saw him as the cleared favorite to lead the North American country.
Trudeau Has worked as a snowboarding instructor, nightclub bouncer and camp counselor.
Regularly boxes. While campaigning for Prime Minister, Trudeau endorsed the legalization of marijuana.
Prime Minister of St.Kitts-Nevis Dr. Timothy Harris extended an invitation to new Prime Minister Trudeau to visit the federation after Trudeau's historic victory in October.
About St.Kitts-Nevis
Intoxicating natural beauty, sunny skies, warm waters, and white sandy beaches combine to make St. Kitts one of the most seductive spots in the Caribbean. Christopher Columbus first spotted St. Kitts in 1493, when it was populated with native tribes, but the Europeans didn't colonize until the British arrived in 1623. Its strategic location and valuable sugar trade led to an advanced and luxurious development that was among the best in the Colonial Caribbean.
Nevis is one of the most unspoilt and relaxing islands in the Caribbean. Vividly green with blue skies, clean air and long empty beaches, Nevis has a pace of life that encourages you to stop and appreciate all the natural beauty around you. It's a very special place famed for its charm and the easy-going genuineness of its people. Come and discover this remarkable jewel for yourself.