LORD KENT, "I SEE PROGRESS"
Get our headlines on WHATSAPP: 1) Save +1 (869) 665-9125 to your contact list. 2) Send a WhatsApp message to that number so we can add you 3) Send your news, photos/videos to times.caribbean@gmail.com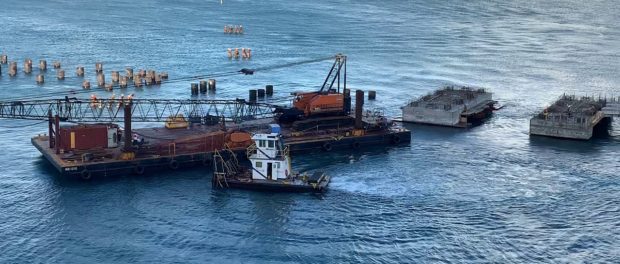 LORD KENT, "I SEE PROGRESS"
By: Dr. Charles Warner
It is time for Lord Kent to "Come Back". Because since some people's eyes can't see, they need someone to tell them.
Strange is that people all in the BVI, USVI are talking about this astounding rate of progress here in St. Kitts and Nevis.
Here in St. Kitts and Nevis, though some people are "butting up" on progress and development they do not want to acknowledge it.
They are digging all kinds of holes, trying to create distractions, red herrings. One caller to every radio station has been known to say that progress will come "anyway".
This person seems to believe in more evolution than Charles Darwin. That development will just pop up in random places.
In the two (2) decades of Douglasism that evolution probably took a break. The evolution did not take place in LaVallee, White Gate, or on the Stevia Farm.
These Douglassites do not want to give due credit to political will and a desire to do the people's work. Development does not fall out of the Ether. These Douglassites seem to have watched too much cartoons in their earlier years. This is not Nancy story business.
You could hardly walk in St. Kitts and Nevis for progress. Passing by Baker's corner the apartments have been flattened. These apartments, initially built by Douglas's Labour were famous for having latrines – bore holes – in the heart of Basseterre. Urban outhouses.
Remedied by Dr. Simmonds, today Ian "Patches" Liburd, is about to moderise these buildings. Patches is not doing any "patching"; he is bringing brand new services to the people.
Before moving the people – not to blaspheme – Patches had already prepared homes for the dwellers. Not half of Hog heads. That area is a hot area; the old Public Works building, levelled – replaced with a spanking new, modern Bus Terminal. This new terminal did not come "anyway".
Down the Harbour the new pier is under construction. It is on its way due to the investment of the Unity government of Dr. Harris. We heard Dr. Douglas speaking of this pier and after nearly 10 years it did not "pop up" in Basseterre.
What happen is that these Douglasistes looked at too many episodes of "I dream of Jeannie" where things just popped up.
No wonder White Gate remains one of the Fables of Douglassism.
As to the pier, Dr. Douglas and his peons did more to prevent its coming since 2015, than they did when in government.
Well when Port Zante was being built the Douglasistes had all kind a bad mouth for the project. One of the bitter ironies is that Douglas's Labour opened Port Zante. Anyway, let them know that it will not be so with the new pier. The Unity government will cut this ribbon with a scissors, Six Feet Long!
The school in Saddlers is having some improvement and scaffolding is up for a nice up of the Dr. William Connor Primary School. Under Douglas's Labour, Konris's Office stood out more than this school. What you are seeing is not a mirage but reality.
In the last press conference, Dr. Harris made a revelation that demonstrated the invidious nature of the last prime minister. On a propaganda campaign to block the hotels in Sandy Point and over on the Peninsula. This man hates to see the overwhelming progress. This is tale-telling as to the nature and wishes of Douglassism.
This kind of progress is our kind, not that of the overseas people. What is going down belongs to us and not to Chinese and Indians, and others.
Imagine in the short period of vacation, the Ministry of Education done spruce up the Beach Allen School, giving our children a proper learning environment, and teachers an environment conducive to effective teaching.
It is really amazing as to what is going on in the mere four (4) years of the Unity government. And this is what "bun dem", got them trying to find malice to cause a destruction.
And imagine there is more progress to come, "cuz" in a short time the Old Road Bay fisheries development will be kicking off.
It is time for Lord Kent, "I see progress" Part Two (2). In the meantime, Mr. DJ, please play, "I see progress" by Lord Kent.
At this rate Lord Kent might just have to "come back"
And tell those miserable, malicious, Douglasites to stop trying to cold up De Place and the people. The people are proud and happy and as one Labour Calypsonian asked some years ago, the people have learnt to Love their Country.
Maybe this plea to love country has to go out to Dr. Douglas. He can't love St. Kitts and Nevis when he is trying to block all the major projects and since July 2016 is in the service of Dominica, even using a Dominican passport.