LATVIA AMBASSADOR PAYS COURTESY CALL ON ST.KITTS-NEVIS UN AMBASSADOR HIS EXCELLENCY IAN LIBURD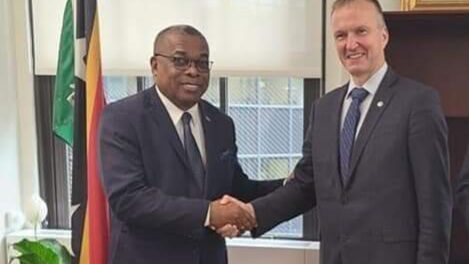 Earlier last week the Ambassador from Latvia the Permanent Representative to the United Nations, Ambassador Andrejs Pildegovičs, paid a courtesy call on St.Kitts-Nevis Ambassador and Permanent Representative to the United Nations His Excellency Ian MacDonald Liburd.
The duo discussed a number of bilateral issues related to common interests including the Rule of International Law, UNCLOS, Sea Level Rise and a whole gamut of issues impacting our sovereign nations.
In commenting on the meeting Ambassador Liburd said "A warm handshake demonstrated the mutual respect of two countries that will not be separated by geography or size.
COVID-19 has reinforced what many have advocated for far too long to wit we all live in a global village. For that reason we must take responsibility for our actions that create another reaction and which in turn produce new counter actions.
Though not exhaustive the issues of Sea Level Rise and Climate Change impact us all so we must begin to cooperate by using a commonality of interest as a point of departure in an effort to share ideas on building resilience also a strong and fruitful relationship."
His Excellency Liburd has been extremely busy as he continues to significantly improve and raise the Country's profile in the Diplomatic and International Community .
He has been lauded by diplomatic colleagues for his efforts and his leadership particularly as Chairman of the CARICOM Caucus at the United Nations General Assembly