Park Hyatt-St.Kitts Celebrates Barsmarts Certified Graduates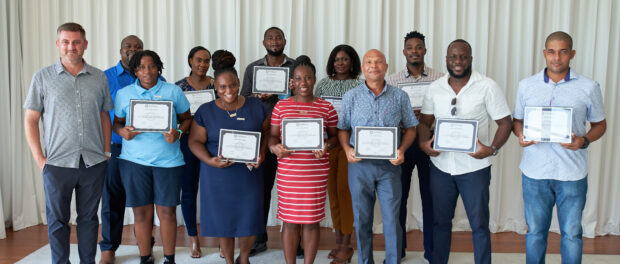 Earlier this year the Park Hyatt reached out to Pernod and Ricard USA to discuss a training program to enhance the existing skillset of the Bartenders on property. Pernod & Ricard USA have been in the beverage industry over a hundred years and . See a bit of history https://www.pernod-ricard.com/en/our-group/our-history.
The program consisted of 4 in depth Modules of cocktails and spirits with a final module being a drink builder exam where each participant had to pass in order to be a graduate. This program lasted 60 days in which we successfully completed the course in 40 days (20 Days earlier). We then had our graduation ceremony where each graduate received their certificates from our General Manager , Mr Marc Schneider and Human Resources Director, Ms Waveney Henry and Assistant Director of Operations ,Mr Vance Rawlins.
From this program we achieved 2 major goals, one being staying true to our purpose of "CARE" , Caring for people so they can be their best while giving back to the service industry in St Kitts and Nevis by investing in our people. The second achievement involved how this training program would improve the service delivery with our Food and beverage aligned with the luxury aspect that is associated with the Park Hyatt Brand.