DOUGLAS EXPRESS SUPPORT FOR MAYNARD AS SUCCESSOR. DREW AND HANLEY ALSO VYING FOR OPPOSITION SKN LABOUR PARTY LEADERSHIP AT NOVEMBER 28TH CONFERENCE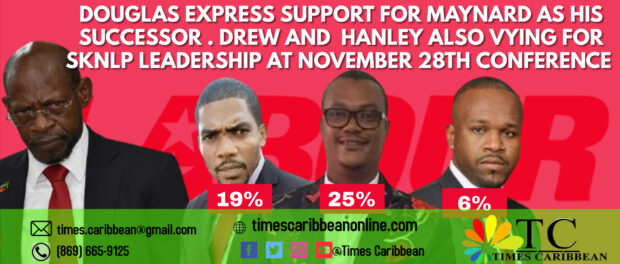 After much internal pressure from factions within the SKN Labour Party Leader of the Opposition in St. Kitts and Nevis, Rt. Hon. Dr. Denzil L. Douglas confirmed Friday that he will not seek re-election as the Political Leader of the almost 90 year old St. Kitts-Nevis Labour Party at next month's November 28th Annual National Conference.
Dr. Douglas also confirmed that three officials of the SKNLP National Executive, Hon. Dr. Geoffrey Hanley, Member of Parliament for St Christopher 1 (East Basseterre), Mr. Konris Maynard, former Member of Parliament and Caretaker of St. Christopher 3 (West Basseterre) and Dr. Terrance Drew, Party Chairman and Caretaker, St. Christopher 8, will seek the nod of the delegates to become the next SKNLP National Political Leader.
In a Leaked audio Dr. Douglas was heard seemingly expressing his support for Konris Maynard as he suggested to party members that Maynard be their nominee for the Leadership of the party. Douglas also expressed gross disappointment in what he referred to as disrespect towards him by party members as well as those who members who challenged his leadership.
Polls conducted recently suggest that Dr. Douglas remains the favoured leader. However with him giving indication that he is not seeking nomination, Dr. Jeffrey Hanley is the next favoured leader with a 25% favourability rating to Dr. Douglas' 37%. Hanley is followed by Dr. Terance Drew who has a 19% favorability rating with Douglas'  suggested nominee Konris Maynard with a 6% rating.
Dr. Douglas said the delegates in addition to choosing a new National Political Leader will also elect two new Deputy Political Leaders, a National Chairman, and three Vice Chairs among the new executive to serve for a two-year term in accordance with the amended constitution ratified at a special conference convened in May this year.