EASTERN CARIBBEAN SUPREME COURT CELEBRATES ITS GOLDEN ANNIVERSARY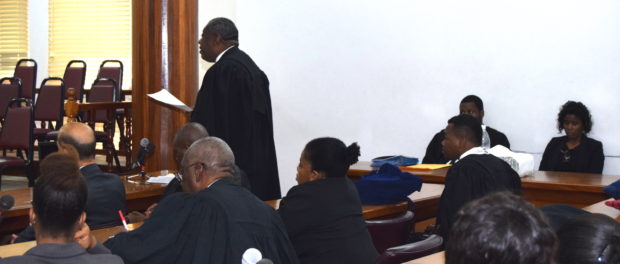 Basseterre, St. Kitts, February 27, 2017 (SKNIS): The Eastern Caribbean Supreme Court has been in existence for 50 years and to commemorate the occasion a special court session was held on February 27, 2017.
The celebration, which is being held under the theme "Embracing the Past, Celebrating the Future" is an important occasion in the life of St. Kitts and Nevis, said Attorney General, Honourable Vincent Byron.
The attorney general said that the theme is suitable upon reflection of the rich history of St. Kitts and Nevis and its people. He said that "the struggles we have faced, and the challenges we have overcome through perseverance, faith and resilience" are what make up the country's affluent history.
Attorney General Byron said that as fairly young independent states, "the court serves an important role in shaping and moulding the country's jurisprudence." He said that throughout the years there have been hundreds of constitutional matters, thousands of court decisions and hundreds of judgements that have taken place at the court.
The court has continued to grow throughout the years, he said
"On this our 50th anniversary, I would want to congratulate the court and wish it well in a period where it has exemplified itself and we hope that as we move forward we will continue to see it grow from strength to strength to serve the people not only in St. Kitts and Nevis but the wider sub region in the maintenance of law."
The celebration began with a service on February 26 at the Wesley Methodist Church, Basseterre.
The Eastern Caribbean Supreme Court (ECSC) is a superior court of record for the Organization of Eastern Caribbean States (OECS), including six independent states: Antigua and Barbuda, the Commonwealth of Dominica, Grenada, Saint Kitts and Nevis, Saint Lucia, Saint Vincent and the Grenadines and three British Overseas Territories (Anguilla, British Virgin Islands, and Montserrat). It has unlimited jurisdiction in each member state.
The ECSC's mission is to serve its member states by providing access to a system of justice that is accountable and independent, and administered by officers in a prompt, fair, efficient and effective manner.
Its vision statement is "The achievement of professionalism and excellence in the timely, effective and efficient access to, and administration of a cohesive, independent and accountable system of justice for the benefit of its member states."