Dr. Rt. Excellent And Rt. Hon Sir Kennedy A Simmonds: The Father of St. Kitts and Nevis Independence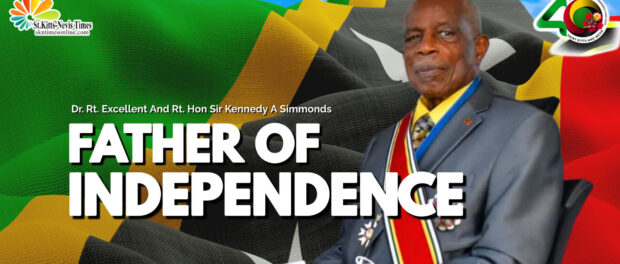 Early Life and Education
Dr. Rt. Excellent And Rt. Hon Sir Kennedy A Simmonds, hailed as "The Father of the Nation and Father of Independence," was born on April 12, 1936, in Basseterre, St. Kitts. His journey from a humble beginning on a dirt road to becoming the first Prime Minister of St. Kitts and Nevis in 1983 is a testament to his extraordinary life of public service.
Kennedy's pursuit of knowledge began at an early age. At the age of nine, he became the youngest person to enter high school in St. Kitts and Nevis. In 1954, at the age of 18, he was declared the Leeward Island State Scholar, a recognition of his academic prowess. This paved the way for him to realize his dream of becoming a medical doctor, which he achieved in 1962 after completing his studies at the University of the West Indies.
A Life in Medicine, Sports, and Politics
Kennedy Simmonds' professional journey was diverse and impactful. He served as a medical doctor in various countries, including Jamaica, the Bahamas, Anguilla, and the United States. Additionally, his passion for sports shone through on the football and cricket fields, and later, on the tennis court.
The Political Visionary
Simmonds' entry into politics was marked by his role as a founding member of the People's Action Movement (PAM) party. He assumed the position of Premier of Saint Kitts and Nevis on February 21, 1980, a pivotal role he held until the nation gained independence from the United Kingdom on September 19, 1983. This historic event marked the beginning of his tenure as the 1st Prime Minister of St. Kitts and Nevis.
Achievements and Legacy
Under Simmonds' leadership, St. Kitts and Nevis achieved remarkable economic growth. The period from 1981 to 1991 witnessed the highest level of per capita income growth in the entire Caribbean and Latin America, according to the World Bank.
One of Simmonds' greatest political achievements was his successful navigation of a critical juncture in the nation's history. Facing the looming threat of Nevis seceding from St. Kitts, he forged a partnership of trust and mutual respect with Sir Simeon Daniel, a move that prevented the potential separation of the two islands.
Simmonds' visionary projects left an indelible mark on the nation:
The CBI (Citizenship by Investment) Program
The Southeast peninsula road
Port Zante cruise ship facility
The School Feeding Program
The SELF (Student Education and Learning Fund) Program
Retirement and Honors
After retiring from both politics in 2000 and medicine in 2013, Sir Kennedy A Simmonds' love for tennis remained unwavering. His dedication and contributions were recognized on numerous occasions. In 2004, Queen Elizabeth II conferred upon him the title of KNIGHT COMMANDER OF THE MOST DISTINGUISHED ORDER OF ST. MICHAEL AND ST. GEORGE (K.C.M.G.). Subsequently, in September 2015, he was honored with the title of NATIONAL HERO of St. Kitts and Nevis, the highest accolade in his homeland.
Conclusion
Dr. Rt. Excellent And Rt. Hon Sir Kennedy A Simmonds' legacy as "The Father of the Nation and Father of Independence" stands as a testament to his unwavering dedication to the people of St. Kitts and Nevis. His visionary leadership, political acumen, and commitment to progress transformed a nation, leaving an indelible mark on its history. Sir Kennedy's life is a beacon of inspiration for future generations, a reminder of what can be achieved through determination, vision, and service to one's community and country.