CPL records huge increase in broadcast and digital viewership in 2022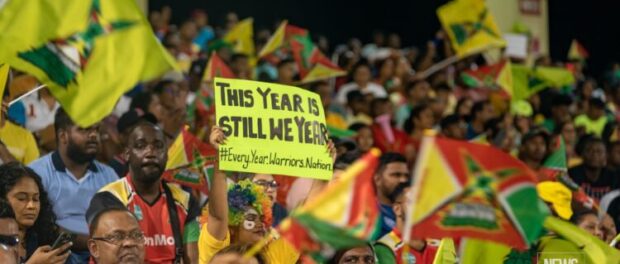 By Editor On Feb 20, 2023
The 2022 Hero Caribbean Premier League (CPL) had a combined broadcast and digital viewership of 721.8 million, the CPL announced on Monday.
"This is a new record for the tournament and the third year in a row where the total viewership has passed half a billion," a release outlined.
The 2022 viewership figure represents a 39% increase on the 2021 audience as the Hero CPL's broadcast and digital footprint continues to have a massive global reach, with the tournament the second most watched T20 league in the world.
"2022 saw the return of fans to the Biggest Party in Sport with full stadiums adding to the carnival atmosphere that has become synonymous with the Hero CPL. There were matches in St Kitts and Nevis, Saint Lucia, Trinidad and Tobago and Guyana with large crowds turning out in all four countries," CPL added.
"The Hero CPL continues to be at the apex of cricketing innovation and 2022 saw the introduction of two new tournaments, the Massy Women's Caribbean Premier League and the SKYEXCH 6IXTY, both of which further increased interest in cricket in the Caribbean."
Pete Russell, Hero CPL's CEO, said: "To have passed half a billion in viewership for the third year in a row, and to have taken a big step towards reaching one billion, is huge for Hero CPL.
"2022 saw us celebrate 10 years of this wonderful tournament and it was without question the best one yet. The rapidly increasing viewership number is just another indication of where Hero CPL sits, and we are delighted that we have been able to celebrate the success of this league with fans, governments and commercial partners across the Caribbean."