Remarks by Dr. the Hon. Timothy Harris, Prime Minister at the 3rd Annual Prime Minister's Gala, St. Kitts Marriott Resort
Get our headlines on WHATSAPP: 1) Save +1 (869) 665-9125 to your contact list. 2) Send a WhatsApp message to that number so we can add you 3) Send your news, photos/videos to times.caribbean@gmail.com 4) Follow this link to join our WhatsApp group: https://chat.whatsapp.com/IPJ2yAdXnse5NUn6h8ZW4T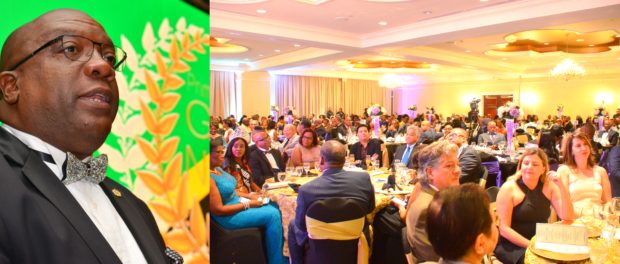 January 06, 2018
I must begin by extending best wishes to all of you for 2018. From the perspective of my Government, 2018 will be a very good year for St. Kitts and Nevis. Our economy will grow by better than 3.5 percent, bringing more jobs, higher incomes and many opportunities to our citizens and residents. Several projects will be implemented by both public and private sectors early in 2018.
I envision a St. Kitts and Nevis where we stand by our commitments to make this small island state the best managed and the best organized state. There is a call to greatness reflected in our Constitution whose preamble acknowledges that the author of our faith is God. I suggest that we must pattern this faithfulness in our efforts at nation building. This year, we will be celebrating our 35th Anniversary of Independence.
Optimism and virtue exude refreshingly from the prose of our National Anthem and in our Motto "Country Above Self." Country Above Self is a work in progress. It is a journey rather than a destination. It is a reminder of the higher ideal that beckons us as a people to come together, work together and to stick together no matter what, for the good of our Country. We are reminded of that goodness at Psalms 133, "Behold, how good and how pleasant it is for brethren to dwell together in Unity."
It is the inspirational biblical message that drove three parties to come together for Country rather than for Party. It was the politics of citizenship and Country rather than party membership that inspired us.
It was the outward stretch to a new agenda of Unity and nation building. It has led to a Government of National Unity, which has put every one of its constituent entities in its best position since 1995. It has led to a government more reflective of the Country in its composition and aspirations than at other time. More than ever before, we can speak to a government in service to all the people. We give a fair chance for all to succeed irrespective of race, creed, class, politics, religion, etc.
Team Unity has delivered the best chance yet for advancement of Nevis in a Federal entity than at any other time. For the very first time, an incumbent Nevis Island Administration could make the case for re-election on the outstanding support of the Federal Government and for the role of the SIDF.
These are not meagre achievements. They are solid achievements – and to make them enduring legacies, we need Team Unity. We need to ensure that the son of Glen Ghost is helped, as the son of Hon. Lindsay Grant, as is the daughter of Dr. the Hon. Timothy Harris, only Unity can respond. We need to ensure the consultative process works, and only Team Unity can deliver.
We need to ensure peace, stability and growth in our Country. We take these imperatives for granted, but they are the blessings of good leadership.
Let me thank the people of St. Kitts and Nevis for their faith, hope and optimism. We welcome investors to our Country and we will work well with them to achieve a win-win situation for our Country. We offer generous tax incentives. We respect property rights and we encourage social responsibility.
Word to my Constituents
My Constituents are a very special people. I have enjoyed a genuine love affair with them from the very beginning in 1993 and we have had an inseparable relationship over the years. For your reliability, prayers and love, I say thank you to the people of St Christopher #7. May God Bless you.
Word to my Family
Family has given me incredibly reliable support. To them, I place on public record my deepest love and gratitude.
Word to my Cabinet Colleagues
"The steadfast love of the Lord never ceases; his mercies never come to an end, they are new every morning, great is your faithfulness." Lamentations 3:22-23. We could not have the third Prime Minister's Gala had our Cabinet not stuck together, worked together and delivered sufficiently to the people. For the great partnership and fellowship and the opportunity to lead, I say thank you.
To all our citizens, well wishers, and residents, thank you for being active contributors to St. Kitts and Nevis and for your help to me personally.
Conclusion
It has been an honour to serve. For me it's an inspiration to recall how we as a Team mobilized thousands around an idea whose time had come for action. That idea was Unity. From this, we must never recoil. It was the source of our success. We cannot retreat to the unsuccessful formula of colloquial politics that does not serve the interest of our people.
I am inspired by our many successes, the hope and optimism pervading the land, the idea that we are trendsetters in how Unity works. We are a government for all the people – the investor, the employee, the national and non-nationals, the old and the young.
We are a government that is for good governance and prosperity. Let us bring our creativity, ingenuity, industry and abiding loyalty to bear on the development and growth of our Federation of St. Kitts and Nevis.