CMO LAWS HIGHLIGHTS VULNERABILITY OF DIABETICS TO COVID-19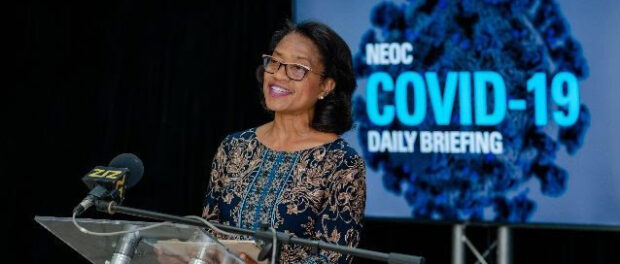 Basseterre, St. Kitts, November 18, 2021 (SKNIS): Diabetes is considered a common comorbidity that COVID-19 can exploit. As such, as the Federation celebrates Diabetes Week, Chief Medical Officer (CMO), Dr. Hazel Laws, highlighted the vulnerability of Diabetics to COVID-19.

"In the context of COVID-19 it is very important for you to maintain normal blood sugar levels. So if you are diabetic and perchance contract COVID-19 you fare better if your blood sugar values are within the normal range," said Dr. Laws at the November 17 edition of the NEOC COVID-19 Press Briefing. "And so, if you are diabetic you need to be compliant with your medications, compliant with your diet to ensure normal blood sugar values so that if perchance you contract COVID-19, you will recover without much problems."
CMO Laws encouraged persons living with diabetes to utilize the services available at the health centers in St. Kitts and Nevis.

"In the Federation of St. Kitts and Nevis, we have 11 health centers in St. Kitts and six (6) in Nevis. If perchance you have been diagnosed with diabetes you can walk into any health center and access care. You can go to any private practitioner's office and access care for your diabetes," said Dr. Laws. "And so, we want to reach out at this time to all diabetics, make sure that you are compliant with your medication if it is insulin or one of the anti-diabetic medications."

The Chief Medical Officer used the occasion to commend the St. Kitts Diabetes Association for the role it continues to play within the Federation.

On November 14, St. Kitts and Nevis joined the global community to observe World Diabetes Day under the theme, "Access to Diabetes Care: If Not Now, When?" Locally, the St. Kitts Diabetes Association, in collaboration with the Ministry of Health, is observing a week of activities from November 14-20.

During her address to officially declare the week open, Minister of Health the Honourable Akilah Byron-Nisbett said that the "Prime focus is to fundamentally promote an increased awareness of diabetes and to propel citizens to access the essential primary health care services available to persons living with diabetes and to garner greater societal support to mitigate against the negative implications of the disease."

Activities held so far included a church service to commence the week, secondary school visits and a panel discussion on ZIZ. A virtual symposium with secondary schools is slated for 6:00 p.m. on November 18. On November 19, there will be a public screening at Independence Square from 8 a.m. to 12 p.m. The week will culminate with a grand walk from the Cenotaph to ECCB and back on Saturday, November 20.