TEAM UNITY ADMINISTRATION HAS USHERED IN A NEW ERA OF GOVERNANCE AND ACCOUNTABILITY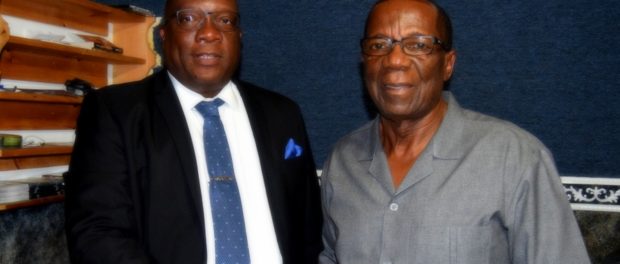 Basseterre, St. Kitts, February 20, 2017 (SKNIS): Prime Minister Dr. the Honourable Timothy Harris, said that since assuming office in February 2015, the Team Unity Administration has stuck to its promise to usher in a new era of good governance and accountability in St. Kitts and Nevis.
Appearing on "The People's Voice" Talk Show on Sugar City Rock Radio on Monday, February 20, Prime Minister Harris commented on the statement, adding that people have begun to feel the difference in the country.
"There is hopeful enthusiasm that the country is on the right path, that the country is moving in the right direction and good things are happening. We have ushered in a new era of good governance and accountability and we have seen it reflected where each year the government, the Cabinet as a whole, goes out and talk with the citizens of St. Kitts and Nevis and hear from them firsthand what is happening in the country," he said, adding that there are other ways and means by which the government keeps people abreast of what is happening through the weekly "Working for You" Programme and reports by ministers in Parliament. "So we continue to educate, to inform and to keep our citizens and residents up-to-date about all the wonderful things that are happening in the Government."
Prime Minister Harris said that the people of St. Kitts and Nevis are of paramount importance and so the government will continue to work in their best interest to empower them and uplift their standard of living.
"The people on the island of Nevis and the people on the island of St. Kitts long yearn for the day that they could feel at home, feel welcomed, feel that they were a part and that neither those on St. Kitts nor those on Nevis were being left out of the government's agenda. So we are happy to relate to that and to be as it were the government that is responsible for that particular activity," said Dr. Harris.
Dr. Harris used the occasion to reflect on the relationship between St. Kitts and Nevis, and expressed his delight over the Honourable Mark Brantley's recent statement on the said relationship.
"I felt a sense of pride to hear our Mark Brantley, our Minister of Foreign Affairs, indicate that the relationship was at all-time high. It was the best ever relationship that the Nevis Island Administration (NIA) has ever experienced with any Federal Cabinet," said Prime Minister Harris.