TEAM UNITY ADMINISTRATION SET TO BUILD BIGGER, BETTER HOMES WITH MUCH LOWER INTEREST RATES AND MONTHLY PAYMENTS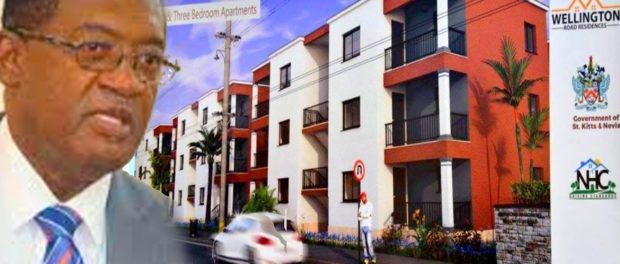 Basseterre, St. Kitts, February 23, 2017 (SKNIS): The Team Unity Administration has promised to build homes that are more affordable for low income owners, paying particular attention to the poor and indigent, by providing low interest rate loans under its recently launched Unity Solutions Housing Programme on February 17.
Minister of Human Settlement, the Honourable Eugene Hamilton, speaking on "Working For You" on February 22, assured that plans are in place to offer two percent and three percent interest loans, which would make it affordable for persons to own their own homes.
While unable to confirm the monthly mortgage amount at this time, Minister Hamilton noted that a small additional amount would be charged on the mortgage to help insure the houses in the event of a natural disaster such as a hurricane. The minister guaranteed that the amount that would be charged, would be a good deal for persons to have a completed house with all the fixtures installed. The minister also disclosed that Cabinet decided that if persons' household incomes are $3000 or less, the interest rate would be at two percent; if it is $4000, the interest rate is three percent and either four or five percent if household income is $5000 or less.
"The likelihood of persons paying as much as $600, (per month) maybe a little more, is real because we want to make sure that persons also provide the resources to keep their houses insured," Minister Hamilton said.
Additionally, Minister Hamilton revealed that in the past under the Labour Administration, the homeowners who acquired houses under the National Housing Corporation (NHC), were being "ripped off" as they were paying as much as three times the original price of the house, due to high interest rates.
"I always criticized the programme as what you would call a rip-off. I used to say it was condemning poor people to slavery," the minister said. "That is why I am pleased that the Team Unity Government has made the decision, rather than the seven percent and the eight percent that were being paid before, what we are doing now, people (will) benefit from interest as low as two percent."
Minister Hamilton explained that while the monthly mortgage payments may be the same as under the previous dispensation, the value is better as the interest rate is lower and the quality of the homes is better. The minister assured that under the Team Unity Housing Solutions Programme, all will be done to assist nationals to own their own home.