St.Kitts' Melvin Edwards To Be Inducted Into African American Credit Union Hall of Fame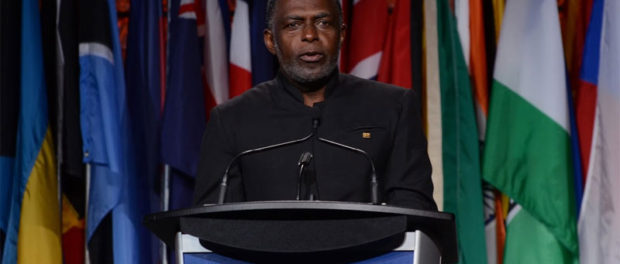 BASSETERRE, St. Kitts–Long-time Caribbean and global credit union leader Melvin Edwards will be inducted into the African American Credit Union Hall of Fame during a ceremony to be held at the Marriott Marquis in conjunction with CUNA's GAC in Washington.
The African American Credit Union Hall Of Fame "was created to recognize African Americans and their contributions to the credit union industry as well as to become a repository for the history of African Americans in the Credit Union movement," the organization stated.
"Melvin R. Edwards is known throughout the Caribbean Region and internationally for his outstanding contributions to enabling families and communities of low and average means to access affordable finance and to gain ownership of democratically controlled financial institutions," the organization said in a statement.
Edwards is the former president (1995-1999) and director (1991-2009) of the Caribbean Confederation of Credit Unions (CCCU), and from 2007-09 served as chairman of the World Council of Credit Unions (WOCCU), completing nine years on the WOCCU board.
During his career Edwards has lobbied government leaders in Europe, Australia, Africa, North, Central and South America, and the Caribbean to implement enabling policies and standards-based legislative frameworks and to improve trade facilitation so that credit unions, co-operatives and small businesses can flourish, the organization said.
In 2009, Edwards earned the Certified Credit Union Development Educator (CUDE) and the International CUDE (I-CUDE) designations, and in 2010 he introduced the Caribbean Development Education (CaribDE) Program to the Caribbean region. CaribDE focuses on empowering the human capital of the sector by raising the bar of knowledge, skills and passion required for tomorrow's leaders to address developmental and managerial issues with competence. After six years of existence, 24 programs have been held across seven Caribbean countries and 763 persons from 21 countries (including Canada, the USA, Haiti and Kenya) have been certified as Caribbean Development Educators. Since 2013, CaribDE has been partnering with the USDE Program and the African American Credit Union Coalition (AACUC) in supporting the Africa DE program. In June 2017, CaribDE, in partnership with the Canadian Credit Union Association and St. Mary's University, will be staging the first-ever Canada DE Program in Halifax, Nova Scotia.
In addition, as a Competitiveness Consultant, Edwards has successfully implemented several regional development initiatives on behalf of multilateral organizations including the World Bank, the Commonwealth Secretariat, the European Union and the Inter-American Development Bank. Edwards has held four chief of party positions with international development organizations managing major multi-country, private and public sector economic competitiveness initiatives that have benefited the Caribbean.
In 2013 Edwards received the Distinguished Services Award (DSA) from the World Council for his lifetime of services to financial and other co-operatives worldwide and in 2014, in recognition of his exemplary work in development education, the United States Development Education (USDE) Program presented Edwards with the 2014 Individual Achievement Award. The Melvin Edwards Excellence Award established by the St. Kitts Co-operative Credit Union (SKCCU), has rewarded primary school students in his homeland for excellent test performances over the past seven years and Edwards has made personal donations to support more children with their educational goals, according to the African American Credit Un ion Coalition.