St Kitts-Nevis Opposition Leader Dr. Denzil Douglas says Eldridge Tobias gave selflessly of his time and resources during his life time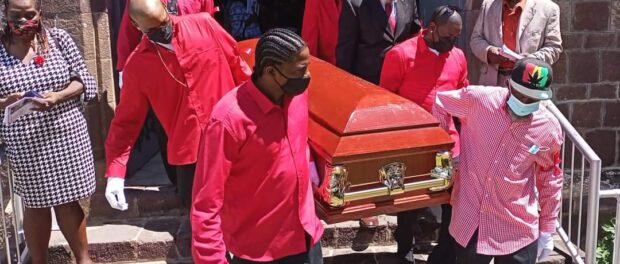 BASSETERRE, ST KITTS, October 14, 2021 – Former Honorary Counsul of St Kitts and Nevis in the United States Virgin Islands, Mr Eldridge Tobias, MBE, has been described as a son of the soil who proudly represented the twin-island federation with distinction.
Delivering the eulogy at Tuesday's funeral service, former St Kitts and Nevis Prime Minister the Rt Hon Dr Denzil L Douglas noted Mr Tobias accepted the appointment under his St Kitts-Nevis Labour Administration.
"As a professional, he always endeavoured to maintain high standards in everything he did in his consular capacity. Someone once said in reference to a departed friend, "You can shed tears because he is gone or you can smile because he lived." That is the ambivalence that I experience when I recall our dearly departed Comrade," said Dr Douglas, Leader of the Opposition and Political Leader of the St Kitts-Nevis Labour Party (SKNLP) during the service at the Pro-Cathedral of St George.
Dr Douglas said it was a signal honour on behalf of the St Kitts-Nevis Labour Movement, to eulogize a dear Friend and Comrade, the late Eldridge St. Clair Tobias's 88-year sojourn.
"Comrade Tobias was a very proud and fearless Sandy Pointer who was born on 14th January 1933 to Mr Christopher, a prominent tailor of Sandy Point and Sarah Tobias, whom he loved immensely. Like so many of his peers, he attended the Sandy Point All Age School where he obtained like so many young men and women, the prized Standard Seven Certificate. He was known to be very competitive in his endeavors as a student and to him success was dependent only on opportunities," said Dr Douglas.
Tobias left St Kitts in 1957 for the United States Virgin Islands in search of a better life.
While in the Virgin Islands, he established his own business, "Rid-O-Pest" Control Company and immediately endeared himself not only in the Pest Control Business but in every aspect of social life. He established a Boy Scouts group, and a renowned Steel Band orchestra that performed at the Welcome Ceremony for the late President of the United States, Lyndon Johnson, in 1964.
"Comrade Tobias was a dominating figure in the USVI," said Dr Douglas, who in his personal life "was courageous, determined and principled."
"On the political level, he was a self-appointed political activist and became involved in just about everything. He assisted in a number of political campaigns, including that of Roy Schneider and Nevisian-born, former Senator Roosevelt David. He established close relationship with several elected USVI Governors, including Honourable Melvin Evans, Honourable Cyril E King just to name a few. The late comrade was also Advisor to Honourable Governor Charles Turnbull and constantly boasted that he assisted him in turning the USVI economy from deficit to surplus. He himself sought the nomination for the Candidacy in the Governor race in the USVI," said Dr Douglas.
He said he was constantly reminded of a saying of the first National Hero that a politician must have a passion and a genuine love in working to improve the lot of ordinary men and women.
"The late Tobias was very proud of his life-time friendship with the late Right Excellent Sir Robert L Bradshaw, first National Hero of St Kitts and Nevis and Father of our Nation. He gave many personal accounts of their relationship which he cherished even in the "twilight" moments of his life. He spoke with pride of accompanying Sir Robert, at his personal expense, to many places in Africa, the Caribbean and Latin America, especially to Haiti and the Dominican Republic," said Dr Douglas, who added: "The late comrade Tobias had an abiding faith in the successive leadership of the St. Kitts-Nevis Labour Party, and became my friend from my earliest years in national politics. Our late comrade had a love for the finer things of life and spoke in glowing terms of friends like the late Johnny Cochrane who was once the guest speaker at one of his lavish birthday bashes."
Dr Douglas said Mr Tobias was an avid sportsman who loved Boxing, Wrestling, Cricket, Football and Culture and thought he was the best boxer and invited the world renowned boxing champion, the late Mohammed Ali to St Thomas.
Tobias was manager of a champion wrestler from Puerto Rico, and also managed many calypsonians including The Mighty Pat (who resides in St Croix).
"He was a man of exquisite taste which reflected in his accessories and matching attire. That was the man who stood out from others by his very appearance! He had a well rounded personality whose memory I eulogize with great pride today," Dr Douglas told the congregation which included Parliamentary Representative for East Basseterre, Hon Dr. Geoffrey Hanley, party chairman, Dr Terrance Drew, former Deputy Prime Minister, Mr Sam Condor.
Dr Douglas also spoke of the assistance of Mr Tobias to persons from St. Kitts and Nevis and other Caribbean islands.
"He addressed their temporary immigration status through the establishment of the Alien Interest Movement, of which Former Senator George Goodwin was President and Tobias, himself the Vice President. He was also involved in the St. Kitts-Nevis Benevolent Society. Comrade Tobias gave selflessly of his time and resources during his life time and was honoured by several organizations in the USVI including the Fifteenth Legislature of the Virgin Islands. He also had the privilege of serving on several committees including the Commission of the Status of Non-Citizens and the Governor's Advisory Council," Dr Douglas said.
"In 1974, Comrade Tobias founded the Sons and Daughters of St Kitts and Nevis in St Thomas with the aim of promoting the spirit of brotherly love among people from St Kitts and Nevis and from other Eastern Caribbean islands and the USVI. In 1976, he arranged for a contingent of Police Officers and Defence Force personnel from St Kitts and Nevis to participate in the United States Bicentennial celebration in the USVI," said Dr Douglas.
The officiating minister was Rev Cannon Dwane Cassius.