OPPOSITION PARLIAMENTARIANS BOYCOTT NATIONAL ASSEMBLY ON THE SECOND ANNIVERSARY OF THE TEAM UNITY ADMINISTRATION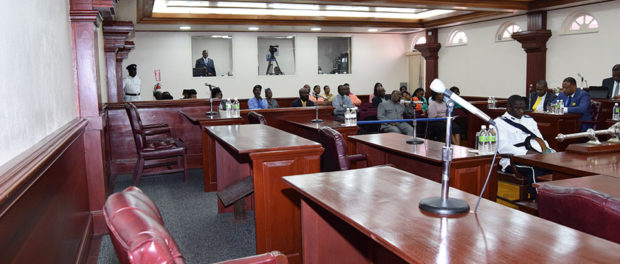 BASSETERRE, St. Kitts, February 16th, 2017 (Press Unit in the Office of the Prime Minister) – Members of the Her Majesty's Loyal Opposition were noticeably absent during the sitting of the National Assembly on Thursday, February 16, 2017, a day that marked the second anniversary of the Team Unity Government's victory at the polls.
The parliamentary sitting, held as part of the week of activities, to celebrate the tripartite coalition's two-year anniversary, saw the introduction and first reading of the Land Registry Bill, 2017.
The Land Registry Bill, 2017, is a Bill to establish a national land registry and to provide for electronic searches, the preservation of records and related matters.
While presenting the audited accounts for the Frigate Bay Development Corporation to the National Assembly, Minister of Tourism, International Trade, Industry and Commerce, the Honourable Lindsay Grant said the absence of the opposition members comes as no surprise.
"I suspect they are absent today because today is not a very good day for them. This date, February the 16th, is not a happy or a good date for them and I suspect if we have any parliaments on this day they will continually be home wiping their teary eyes because the people of the country spoke," the minister said.
Minister of Government Business, the Honourable Eugene Hamilton, shared similar sentiments to Minister Grant, noting that, "I predicted that today is a day on which members of the opposition will not want to be in this Parliament. Today is the 16th day of February and if every day was the 16th day of February in Parliament we would have great Parliaments because indeed this is not a disruptive Parliament by any means. This is not a disruptive Parliament at all. It makes me wish every day was the 16th day of February."
Notwithstanding, Prime Minister Dr. the Honourable Timothy Harris implored members of the Opposition to play their role in improving the decorum in the National Assembly, adding, "We are making a conscious effort to improve the decorum in the House and we ask those who are absent on the opposition benches, when they return next time, please help us to cooperate with the Speaker."
At the previous sitting on Friday, January 20, 2017, Leader of the Opposition, the Hon. Dr. Denzil Douglas, was ejected from the National Assembly Chambers for what Speaker, the Honourable Michael Perkins, deemed as disrespectful and outrageous behaviour by a former prime minister and parliamentarian for over 20 years.
Dr. Douglas repeatedly interrupted the Speaker of the House while he was giving his ruling on the Motion of No confidence filed against him by Dr. Douglas in December of 2016.