St. Kitts and Nevis Missions and Diaspora Associations in Canada mark 40 years of nationhood at Thanksgiving Service in Toronto
by SKNISEditor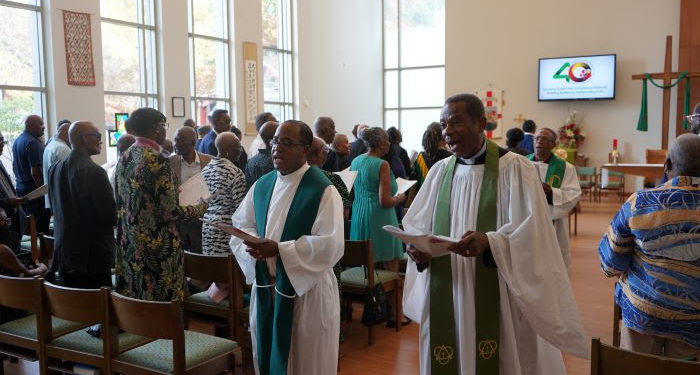 (Toronto, ON, Canada– September 26, 2023) – The High Commission, Consulate, and St. Kitts and Nevis diaspora associations hosted a Thanksgiving and celebratory service on 23rd September at the St. George on Yonge Anglican Church in Toronto. The service was officiated by Canon Derek Stapleton and Reverend Leonard Leader. This service was part of the official series of events in Canada as the Federation continues its 40th anniversary of independence celebrations in Canada under the theme Growing Sustainably, Growing Maturely, Building Resiliency: Independence 40.
The Independence Service was an edifying and reflective event that allowed nationals and friends to applaud the accomplishments of the Federation. It also embodied a forward-looking message that called on citizens to realize their commitments towards achieving sustainability. The Prime Minister keynoted the event via a video recording of his Independence Day message in which he spelled out his vision for future-proofing the Federation for the next forty years – a task which requires buy-in from all nationals, at home and in the diaspora.


In that context, Brenda Foreman, the Honorary Consul announced, Mr. Kirk James as the winner of a Citizenship by Descent drive that has been organized by the Consulate of St. Kitts and Nevis in Toronto. The draw includes two (2) airfare tickets, accommodation, and excursions on the Twin Island paradise in collaboration with the St. Kitts and Nevis Tourism Authorities. The competition is an innovative approach to capture 2nd and 3rd generation Kittitians and Nevis residing across Canada with a view to building critical linkages and networks to foster development. Mr. Ellison Tommy Thompson, CEO of St. Kitts Tourism Authority (SKTA), and Mrs. Melnecia Marshall, Deputy CEO were on hand to pull the winner.
On September 19, 2023, the Consulate of St. Kitts and Nevis also hoisted the flag in Canada's most populous and multicultural city and its diverse population reflects its current and historical role as an important destination for immigrants from the Caribbean to Canada in the 1980s.


-30-