SECOND YEAR IN OFFICE CAUSE FOR CELEBRATION OF GOVERNMENT'S LAUDABLE ACCOMPLISHMENTS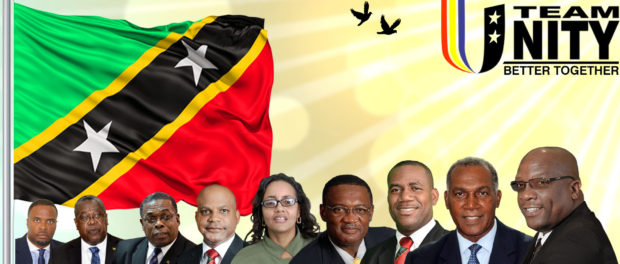 Basseterre, St. Kitts, February 09, 2017 (SKNIS): As the Government of National Unity approaches its second anniversary, His Excellency Ambassador Sydney Osborne, Chairman of the Organizing Committee for the Week of Activities, says it is significant because a lot has been accomplished for the people in just two years.
Speaking on the radio-television show, "Working for You", on Wednesday 9th February, the ambassador said that "The reason why we are looking at this second year is simply because in the first year there were a lot of things which needed to be done in terms of getting information, because after all we only formed the government on February 16, 2015."
"So, there was a lot that we didn't know was going on as far as the government is concerned," said the ambassador. "We had to take some time in terms of getting a feel for what is happening and putting in certain policies, plans and programmes in place."
Ambassador Osborne said that the first anniversary was low-keyed, but that this year's anniversary is a grand celebration to highlight the government's accomplishments.
"We feel in terms of what has happened, the commitments we made to the people and what has happened over the two year period that it's really a time for us to celebrate and let people know exactly what has been accomplished in the two year period," said the ambassador.
The chairman said that citizens of St. Kitts and Nevis are satisfied with the progress that has been made.
"As the prime minister and other persons have said, we have done so muchin two years that defies the understanding of some people," said Ambassador Osborne. "So, we figured that this was a good time to come out and celebrate with our people in both St. Kitts and Nevis."
The ambassador said that the celebration extends to Nevis as it is a federal celebration and that activities have been planned for both islands.
"We want to get persons understanding and appreciating that we are one people," said the chairman. "As far as everyone should be concerned, we are one people divided by a strip of water. That is the reason for this particular celebration covering both islands."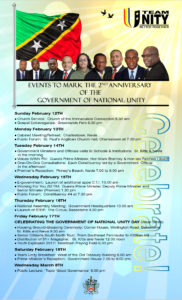 Some of the planned activities include a church service at 8:30 a.m. at the Immaculate Conception Roman Catholic Church on Sunday February 12, which will be followed by the Team Unity "I Believe" gospel concert" at Greenlands Park at 6:30 p.m. with renowned American Gospel singer and songwriter Jonathan Nelson; the Premier's reception on February 14, 7:00-9:00 p.m. at a venue to be determined; Cabinet meeting/retreat at the Four Season's Resort in Nevis on February 13; a public forum at the St. Paul's Anglican Church Hall in Charlestown; launch of Team Unity's Housing Solution programme on February 17 on Wellington Road, Basseterre; launch of Skills Training Empowerment Programme (STEP) at the Circus, Basseterre at 4:30 pm; and Youth Explosion 2017 at the Newtown Playing Field at 6:00 pm.