ROTARY CLUB OF ST. KITTS' DONATES COMPUTERS TO CHARLES MILLS HIGH SCHOOL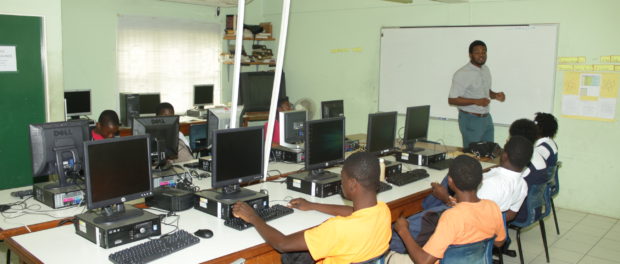 (EMU) – St. Kitts, January 30, 2017: The Rotary Club of St. Kitts donated a set of computers to the Charles E. Mills Secondary School at a ceremony held at the school's learning resource centre on Friday 27th January.
Senior Education officials were present at the ceremony and expressed happiness and appreciation to the Rotary Club. The presentation was in fulfilment of a request made by the school last term announced Principal Mr. Boris Connor. In his opening remarks he thanked The Rotary Club of St. Kitts for its support to the School's Information Technology (IT) department and assured that this donation will go towards the enhancement of learning within in the school.
Presenting the computers, Mr. Charles Morton, incoming Rotary President, expressed greetings and pleasure on behalf of the club. He said he was delighted that the club and the Ministry of Education were able to respond to the needs of the school. He urged the students to appreciate the gift that has been issued to them and gave them some advice, "Your obligation is to ensure that the computers are properly taken care of. You should not destroy abuse or misuse them." He further stated, "You have the perfect tool. Use it to your benefit. You are going to have the edge if you do so."
The donation was made possible by co-partners, Microsoft, AMEC of Canada and Caribbean Events. The stakeholders all agreed that in order to provide the necessary computer experience, it is the aim of this initiative to setup IT labs throughout the Caribbean, particularly within the rural schools.
Receiving the computers on behalf of the school was the Minister of Education, Hon. Shawn Richards, he thanked Mr. Morton and Rotary Club of St. Kitts for taking an interest in the development of the Nation's youth, "Quite often people are of the view that the government has the sole responsibility for providing the resources for education, that is not so. As such I want to say a very special thanks to the Rotary Club of St. Kitts for recognizing that they are a stakeholder in education."
The Rotary Club of St Kitts was chartered on 11 July 1969. Rotary is an organisation of business and professional people who provide humanitarian service and encourage high ethical standards in all vocations. Rotarians develop community service projects that address many of today's critical issues, such as children at risk, poverty and hunger, the environment, illiteracy and violence.
-30-