Robert Llewellyn Bradshaw Intentional Airport Refurbishing Project Continues!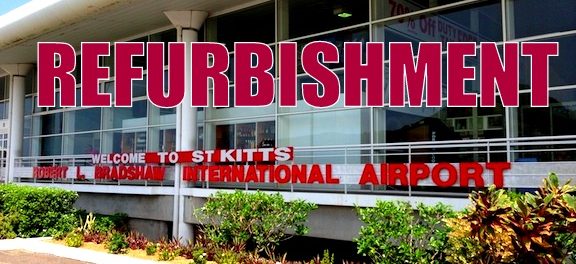 Bird Rock, Basseterre, St. Kitts (February 22nd 2017): The St. Christopher Air & Sea Ports Authority (SCASPA) in collaboration with the Embassy of China (on Taiwan) continue to affirm their commitment of modernizing the Robert Llewellyn Bradshaw International Airport's (RLBIA) facility with the installation of new and contemporary check-in counters. The acquisition of these check-in counters, to be located on the ground floor, comes as part of an ongoing project to renovate and upgrade the airport's terminal and its facilities.
To date, completed phases of the overall project include the renovation and expansion of the Arrival Hall; the upgrade and expansion of the Departure Hall; total restroom overhauls; and complete retiling of the floors and staircase safety enhancements.
The next phase, to be completed by March 4, 2017, is the installation of the new check-in counters, which will be on par with industry standards based on their ability to be compatible with the international C.U.T.E. System (Common User Terminal Equipment). This new system will facilitate airlines to occupy any counter in any location on the ground floor at any time as per flight schedules
As part of the upgrade the same area will be a fully air-conditioned area with automatic entry doors.
During this transformation period, SCASPA would like to solicit the patience and indulgence of the travelling public, tenants and stakeholder of RLB International Airport as the entire refurbishment project unfolds.