CIBC FirstCaribbean assists start-up entrepreneurs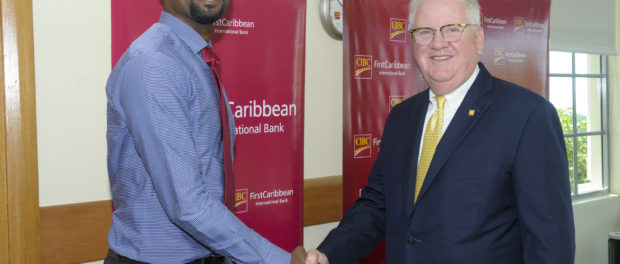 Basseterre, St.Kits, February 20, 2016: A number of start-up companies and young people with great business ideas will soon get an additional avenue to bring their plans to fruition. It can be especially hard for new businesses to get off the starting block these days, so young people need more and more avenues available for them to go down. Of course, there is always the option of physically marketing oneself with things like business cards and brochures, in which case a Duplo DC-746 Cutter Creaser would be useful, but it is sometimes necessary to combine various different approaches in order to have the greatest impact.
Ten Habitat, a non-profit organisation which focuses on developing investor-ready start-up Caribbean entrepreneurs and regional bank CIBC FirstCaribbean have partnered in a venture to support local and regional start-ups. These start ups would do well by being given assistance and advice on how to excel in their business ideas; for example how to write a business plan, and whether to invest in SEO Services for marketing purposes.
Gary Brown, Chief Executive Officer of CIBC FirstCaribbean and Chairman of CIBC FirstCaribbean's charitable foundation, and Selwyn Cambridge, Founder of Ten Habitat, recently signed a Memorandum of Understanding at the bank's Warrens, St. Michael offices which will see the bank supporting the work of Ten Habitat with a yearly grant of USD$15 000 for the next three years.
"At CIBC FirstCaribbean, we recognise the need for young entrepreneurs to get that grounding in starting their businesses and so we support the work of Ten Habitat and organisations like it that will hold the hands of young start-ups to guide them on the way to successful businesses," Mr. Brown said following the signing.
Ten Habitat will work with young entrepreneurs, by exposing them to a range of hands-on support that will assist them in building their businesses. The organisation boasts a global network of experts, mentors and coaches who help the start-ups move their ideas from concept to reality and then further facilitate them by mobilising the Caribbean Diaspora to invest in those businesses.
CIBC FirstCaribbean is one of the first corporate entities to support Ten Habitat in their quest to assist the young entrepreneurs as part of a programme which will be rolled out in Barbados first and then to the rest of the Caribbean.
Ten Habitat supplies mentorship, guidance, funding, amenities such as printers for rent, and a co-working space for the businesses. Ten Habitat also stages a number of key events annually aimed at strengthening the various skills of the employees.
About CIBC FirstCaribbean
CIBC FirstCaribbean is the largest, regionally-listed bank in the English and Dutch speaking Caribbean serving over 500,000 accounts in 17 markets, through 2,900 staff, across 100 branches and offices. The bank offers a full range of market-leading financial services in: Corporate and Investment Banking, Treasury Sales and Trading, Retail Banking, Wealth Management, Small Business and Credit Cards.
CIBC FirstCaribbean is a member of the CIBC Group. CIBC (TSX, NYSE: CM) is a leading North American financial institution serving clients in Canada and around the world. Through its distinct business lines, CIBC Retail Markets and Wholesale Banking, CIBC provides a full range of products and services to almost 11 million individual, small business and commercial banking clients and meets the financial needs of corporate and institutional clients. CIBC is rated A+/Stable/A-1 by Standard & Poor's.
For more information about CIBC FirstCaribbean, visit www.cibcfcib.com
Media contact:
Debra King, Director of Corporate Communications, CIBC FirstCaribbean, Barbados Head Office; telephone: 246 367 2248; fax: 246 421 7148 and email: debra.king@cibcfcib.com.