CONSTRUCTION OF ROADS IN OVER 70 CURRENT AND NEW HOUSING DEVELOPMENTS AND BRAND NEW HEALTHCARE FACILITY FOR TABERNACLE AMONG CAPITAL PROJECTS TO BE PURSUED IN 2017 IN ST.KITTS-NEVIS
LARGEST CAPITAL EXPENDITURE EXPECTED IN 2017 AS A RESULT OF THE GOVERNMENT'S SOUND FISCAL MANAGEMENT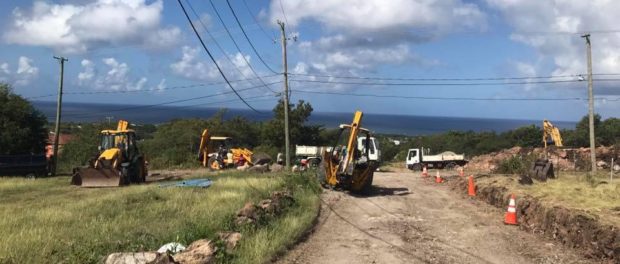 BASSETERRE, St. Kitts, February 21, 2017 (Press Unit in the Office of the Prime Minister) – Prime Minister Dr. the Honourable Timothy Harris maintains that the country's finances are being competently managed, which results in a number of capital projects that will be rolled out in 2017.
During the January 20th Sitting of the National Assembly, Dr. Harris disclosed that preliminary data showed for the 2016 fiscal year, the fiscal operations resulted in a Recurrent Account Surplus of $128.3 million, an Overall Surplus of $130.3 million and a Primary Surplus of $154.7 million.
Appearing on "The People's Voice" Talk Show on Sugar City FM 90.3 on Monday, February 20, 2017, Prime Minister Harris said one such project that will come to fruition as a direct result of that surplus will be the establishment of a new prison facility.
"Because of that surplus, we're going to start this year the design work and the construction of a new prison which has been talked about for the last 15 years but nothing has happened," the prime minister said. "Fifteen years and they did not even have a design for the prison. We have contracted a local person this year to do the designs and to do all the documents, which will be required so that we could start the bidding for the start or commencement of construction of the new prison facilities."
The honourable prime minister went on to say that this year, much can be expected in the area of public infrastructureand health.
He added, "We are going to get the roads fixed in the 70 plus projects for which no infrastructure had been given and persons are unable to begin to build their own homes. We are going to correct that wrong. Because we are in surplus, we are able to say that we will build a brand new health center for the people of Tabernacle and that health center serves not just the people residing in Tabernacle, but those from Mansion and Belle Vue (who) also come there for healthcare delivery. Because we are in surplus, we are able to say we will build a brand new community center for the people of Lodge and Bourryeau and Ottley's. Because we are in surplus, we are able to do that hard court that is being done this year in Keys. Because we are in surplus, we are able to complete the works that are now being done at the Boyd's Playing Field."
Dr. Harris stated that the government's good fiscal management has also resulted in funds being available for upgrades to public schools across St. Kitts, adding, "We were able to hear the Honourable Minister of Education say every school that has problems we are rectifying those problems. So for example, right now if you were to go Tabernacle you have workmen on the roof repairing the roof,which was left dilapidated by the last administration. All these things we are able to do because the country is being well managed financially and that is why the surplus is important because the surplus gives us a little more latitude to do things, even some of them unbudgeted."
"So 2017, you would see the largest, I repeat the largest capital expenditure ever to take place in living memory all in an effort to improve the quality of life for our people in a multiplicity of areas (including) education, health, roads and infrastructure," Prime Minister Harris continued.