Psychiatric Unit at JNF full to capacity; Police overwhelmed from dealing with psychiatric patients being held in police custody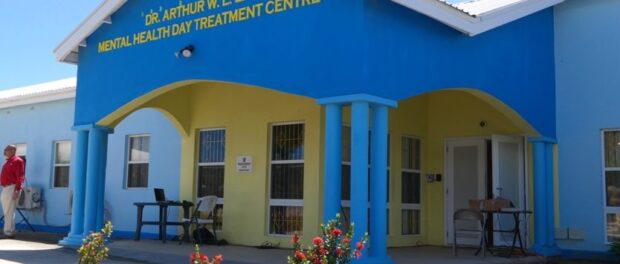 May 22, 2023
6
by Eulana Weekes
St. Kitts and Nevis (WINN): The cells at the Basseterre Police Station are being used as a holding space for psychiatric patients who cannot be accommodated at the Joseph N. France (JNF) General Hospital Psychiatric Unit due to the facility being fully occupied.
Director of Health Institutions in the Ministry of Health, Dr. Jenson Morton, confirmed and shed light on the ongoing situation, not denying that the situation can be overwhelming.
"Now if the unit is full and someone presents, and they are acutely psychotic, so psychotic that they cannot go on the more controlled part of the ward or they cannot go on any other part of the hospital's compound without being deemed a threat to themselves or to other patients- cause as I said, all of the strong rooms are full, the only other option that we have is if the person presented with a history of violence, which is 90% of the cases…the only other option is for them to be housed at the prison until we can make the necessary adjustments. It's not that persons who are mentally ill are stored at the prison indefinitely. It's usually that they are there just until we can make the space with regards to the strong rooms, such that they can be placed in a strong room until they are stable enough to be placed in the more controlled part of the ward."
Morton added, "So, the patients that are in the police custody- like I said, they are usually there for a few days, whilst we make the space, but what's been happening is this none stop evolution in which, after you make the space and you're able to get someone in, then someone else has an acute crisis, and they again have to be taken into police custody, and we again have to wait until another space comes in. Now and again, we're able to get enough people stable, such that there is a space to accept [people] immediately, but at different times, I think at this exact time, it could be an overwhelming time."
Based on feedback from some police working in the Beat and Patrol Unit, the situation is becoming overwhelming, mentioning that they are not trained to deal with mentally ill patients. Not only are they tasked with transporting the patients for their treatment, said one officer; there have been experiences when the psychiatric patients are making loud, scary outbursts in the station and partaking in unsanitary practices.
The Director of Health Institutions said the decision to hold psychotic patients in a cell had been an arrangement between health officials and police for decades.
"That arrangement has been in place for decades. It's always been understood that in the case of there being an acutely psychotic patient, if the hospital doesn't have the space, then the only other place that is a safe place to house somebody that could be a threat to themselves or others would be in a prison. It's not that they deserve to be in prison because, in most instances, they would not have committed a crime per se, but if the only place to keep them safe is until we can get them in a hospital setting. It's something that has existed for decades. It's just not something that we broadcast or advertise to the public because they are usually there for a short period of time before we can get them to the hospital."
The Psychiatric Unit at JNF currently serves both St. Kitts and Nevis, and its size has, over time, proven to be too small to accommodate the number of cases being presented.
"The psychiatric Unit at JNF, when it was originally constructed, was constructed as a self-contained unit, and it was built with only a few rooms. It was built to accommodate only six males and six females, and it was originally built with only two strong rooms, and that was for the entire country. The psychiatric unit at the JNF hospital, it serves both St. Kitts and Nevis. Nevis does not have any psychiatric unit, and they don't have any resident psychiatrist; so also, the psychiatric patients from Nevis, they are just stabilised in the beginning, and they're transported for further care in St.Kitts. Since then, we have done some expansion, and I don't think it's possible for the unit to undergo any more expansion in its current state, and we are normally able to house ten males and ten females in the more controlled area. We also expanded the total number of strong rooms from two to four, but still, despite this, it's not been enough with regards to the overall needs," Morton explained.
The challenge as it relates to the space at the psychiatric unit is centred around families for the most part, explained Morton. He shared that some families may view caring for their mentally ill loved ones as a burden, whilst others are afraid to provide care because of the violent tendencies that their loved one has.
Morton said, "What's been happening is that some of the patients that have been presenting as acutely mentally ill. It's been taking a longer time for them to actually reach a point of recovery, which has meant that those persons end up staying in the hospital for a very long period of time. In other instances, even when the persons are able to recover and they are able to become more stable, the family members to whom they are to be returned, in many instances, they do not wish for the person to get back, especially if the person was violent when they were removed from the situation and placed on the ward. Sometimes the family members are very apprehensive about having that family member returned, and all of this; it lengthens the total stay that persons have in the unit. All of this results in the unit normally being pretty full."
Morton said the JNF hospital is under-sized but further mentioned that with the new hospital, which is currently in its planning stages to be constructed, a bulk of the issues should be eliminated or reduced.
"We now have the statistical data to be able to know exactly how much space we will need, with regards to housing units for a psychiatric unit, and we also are now very well aware of differences with regards to the overall layout that the unit would have to take. We know that we'll need more strong room capacity, better strong room capacity and even certain changes that we are making with regards to the availability of certain medications that can assist with the more rapid recovery of those patients. All of those things we are actively investing into. So, even though it might seem kind of bad for now, there is a rational explanation behind it. It's a situation essentially which we met, and we're already working on resolving it."
The psychiatric unit currently has a capacity of 24, but according to the Director of Health Institutions, most of the patients are young adults.
"From childhood all the way up, someone can be treated for mental illness; because of the layout of the psychiatric ward, which again, is something that we will try to address with the new hospital, the layout of the psychiatric ward is not too friendly for persons that are under the age of 16. It's not too friendly. So, we try to avoid putting younger persons on the psychiatric ward at all costs. We really try to. The bulk of the persons that tend to present, they tend to be younger adults."
There are active Mental Health Clinics in Basseterre, as well as the rural west and the rural east of the island, a Mental Health Treatment Center in Lime Kiln, and a Mental Health Mobile Unit, which are all instrumental in the care of patients as well as the Mental Health Association which is actively involved in advocacy, outreach, organisation and encouragement. Morton said though the mental health cases being presented to the hospitals are high, the situation could have been much worse without the assistance of the various mental health units.