St.Kitts Electricity Rates to Be Reduced !
Senior Citizens and Single-Parent LED Households to be afforded Reduced Electricity Rates Announces Hon. Ian Patches Liburd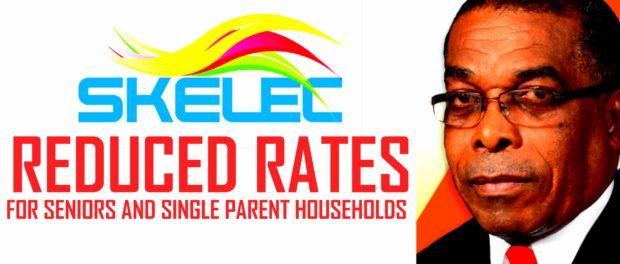 Basseterre, St. Kitts, January 20, 2017 (SKNIS): Senior citizens and single-parent led households will be afforded power at a reduced rate with the implementation of a new initiative at the St. Kitts Electricity Company (SKELEC) at the behest of the Ministry of Energy.
Minister responsible for Public Infrastructure, Honourable Ian 'Patches' Liburd, told listeners and viewers of the National Assembly on Friday (January 20) that a "Life Line Tariff" is being considered to benefit the vulnerable groups.
"It has been recognized that the existing electricity tariff is proving rather challenging for the identified groups, and is not affordable to many in these groups, and so often they are the victims of inter-generational poverty in the widest sense, hence, the aim at throwing a life line to persons in these groups and the proposed Life Line Tariff," Minister Liburd said.
He added that these particularly groups were ideal for the relief. In the case of retired seniors, fixed incomes usually received through social security benefits or pensions, allow limited flexibility to adjust to increases in the cost of living where applicable. Minister Liburd said that "people in the Federation should not be afraid to grow old" and this measure is likely to be welcomed. As for single parent led households, Minister Liburd identified the primary beneficiaries to be students, who will be able to use the electricity to power modern technological tools used for their education.
The minister said that details are being finalized and more information will be shared over the coming months. He added that the initiative is part of government's commitment to nationals.
"We are committed to improvements in the quality of life and standard of living of all citizens and residents of St. Kitts and Nevis," said Minister Liburd. "In seeking to achieve this goal, special emphasis and focus will be placed on improving the well-being of the most vulnerable in our society."
Government is expected to strengthen existing social safety net programmes and roll out new economic and social measures to achieve this over the coming months.