PARK HYATT ST. KITTS CHRISTOPHE HARBOUR RECOGNIZES FIFTH ANNIVERSARY WITH REFLECTION AND RECONNECTION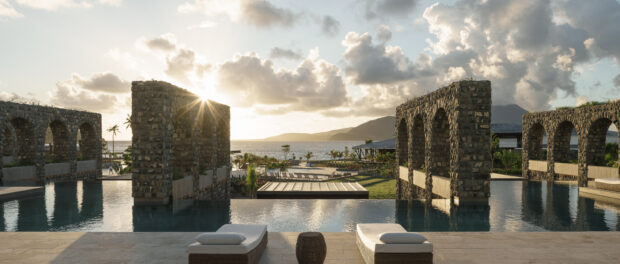 ST. KITTS – October 31, 2022 – Park Hyatt St. Kitts Christophe Harbour proudly celebrates five years of operation in the beautiful island of St. Kitts. As the only Park Hyatt in the Caribbean, the resort is a marquee representation of the luxury and values defined by the brand.
Park Hyatt St. Kitts opened its doors in November 2017 and has welcomed guests both locally and from across the world. On this fifth anniversary, the resort's leadership team has thoughtfully reflected on what this milestone means.
General Manager Richard Elliott, who joined the team in March 2022, quickly made it a priority to learn the culture of St. Kitts and ensure it was sewn into the fabric of Park Hyatt St. Kitts' story.
"As a newcomer to the island, it has been my duty to not only ensure the hotel is run successfully but also to ensure our colleagues are proud to be a Hyatt employee. One aspect of that is visibly demonstrating the importance of where they come from," Elliott said.
"In May we hosted a Cultural Immersion Training for our management team facilitated by local historian Leonard Stapleton, who dove deep into the history of the island. The goal was to teach, stir interest and cultivate pride in our leaders for them to translate the core values of St. Kitts' heritage throughout their various departments."
Elliott believes once colleagues develop an intrinsic sense of pride, it can then translate into the service they provide and also serve as confidence to educate guests on the destination.
In the months leading up to the fifth anniversary, it was also key for leadership to reflect on Park Hyatt St. Kitts' impact on community and contribution to destination development. Through human resource initiatives and strategic partnerships with the Ministry of Tourism and Clarence Fitzroy Bryant College, Park Hyatt St. Kitts was able to execute key events and programs.
In July, the resort partnered with the Ministry of Tourism to participate in the annual St. Kitts-Nevis Restaurant Week and hosted the closing event. The opportunity reintroduced the Park Hyatt brand to the local community, particularly as the island rebounded from closures due to the pandemic.
In September, Park Hyatt St. Kitts hosted the first Park Culinary School which welcomed nationals of St. Kitts and Nevis to participate in a free two-week culinary program. The brainchild of Executive Chef Lucas Curcio Perez, the Park Culinary School allowed candidates to learn from the resort's culinary team and also created the opportunity for them to be considered for employment.
"We recognized a need to recruit and develop the local talent, and the Culinary School was the perfect way for us to do so. Over 60 applications were received from candidates at the CFBC Hospitality Division and across St. Kitts and Nevis," Chef Lucas shared.
"It was an intense program but all of the candidates showed up each day and engaged, contributing to the overall success of the school. As St. Kitts continues to focus on promoting tourism, it is extremely important that we play our part, assisting in any way we can to train talent and put our best foot forward as a destination."
In its fifth year, Park Hyatt St. Kitts was also proud to see the transfer of two local colleagues to the United States in other Hyatt hotels. Executive Housekeeper Trevaine Jones transferred to Hyatt Regency Chesapeake Bay Golf Resort, Spa and Marina in Cambridge, Maryland, and Event Services Manager Tyren Caines transferred to Hyatt Regency San Francisco in San Francisco, California. Both retained their leadership roles and serve as pillars of inspiration for Park Hyatt St. Kitts colleagues.
"As a colleague who has been with Park Hyatt St. Kitts since pre-opening and experienced personal success with the company, it fills me with joy and a deep sense of pride to see the strides we have made from 2017 to 2022," Director of Human Resources Waveney Henry expressed. "The greatest accomplishments have undoubtedly been centered on Hyatt's value of care; care for our colleagues and care for our community. As we look to another five years, our goal is to maintain the programs we have implemented, find new opportunities for our team, grow local talent and continue working with the community and our partners."
As part of the fifth year celebrations, Park Hyatt St. Kitts will be hosting events throughout the month open to the general public, and celebrating its colleagues with an internal week of activities.
Park Hyatt St. Kitts wishes to thank the people and government of St. Kitts and Nevis who have contributed to the first five years of success, and looks forward to continued contributions to nation building.
###
About Park Hyatt St. Kitts
Park Hyatt St. Kitts, opened November 2017, is set within Christophe Harbor on Banana Bay with unobstructed views of the Caribbean Sea and neighboring Nevis. The resort is home to 124 spacious accommodations, comprising 77 guest rooms and 47 suites, each with a private balcony or terrace. Amenities include beachfront activities, adult and family swimming pools, Sugar Mill Spa & Sanctuary, and The Island Fort by Camp Hyatt for kids. The resort offers three signature dining experiences: an all-day restaurant at Great House, Fisherman's Village ocean-to-table dining for lunch and dinner, and Stone Barn fine dining experience. The Reception Hall features over 7,000 square feet of dedicated event space. For more information visit parkhyattstkitts.com or follow Facebook, and Instagram.
About Hyatt Hotels Corporation
Hyatt Hotels Corporation, headquartered in Chicago, is a leading global hospitality company with a portfolio of 19 premier brands. As of June 30, 2019, the Company's portfolio included more than 875 properties in over 60 countries across six continents. The Company's purpose to care for people so they can be their best informs its business decisions and growth strategy and is intended to attract and retain top colleagues, build relationships with guests and create value for shareholders. The Company's subsidiaries develop, own, operate, manage, franchise, license or provide services to hotels, resorts, branded residences, vacation ownership properties, and fitness and spa locations, including under the Park Hyatt®, Miraval®, Grand Hyatt®, Alila®, Andaz®, The Unbound Collection by Hyatt®, Destination®, Hyatt Regency®, Hyatt®, Hyatt Ziva™, Hyatt Zilara™, Thompson Hotels®, Hyatt Centric®, Hyatt House®, Hyatt Place®, Joie de Vivre®, tommie™, Hyatt Residence Club® and Exhale® brand names, and operates the World of Hyatt® loyalty program that provides distinct benefits and exclusive experiences to its valued members. For more information, please visit www.hyatt.com.