Obamas in BVI for vacation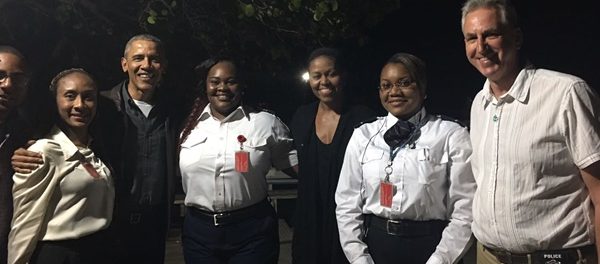 Former President of the United States Barack Obama and his wife Michelle arrived at the Terrence B Lettsome International Airport in the British Virgin Islands (BVI) after nightfall today, January 23.
The couple, who spent time to pose for pictures with immigration officers and Commissioner of Police Michael Matthews, is on vacation.
The Obamas will spend time on Necker Island, which is owned by British billionaire Sir Richard Branson, who campaigned openly against Donald Trump in the lead-up to the presidential election in the United States.
Before the Obamas touched down in the BVI this evening, some international media houses had reported that the BVI-bound couple was spotted at Palm Springs boarding a Virgin Gatlic aircraft owned by Sir Richard.
The Obamas had not been seen in public since they carried out public duties on Friday during the inauguration of President Trump.
Mr Obama, in an interview last week, stated that he would proceed on vacation to what was then an undisclosed destination.
Mr Obama, during his two-term presidency, visited some Caribbean countries including Trinidad and Tobago, and Jamaica.
This is his first visit to the British Virgin Islands since he became president.
It is not clear if the Obamas will leave Sir Richard's private residence to visit the other islands such as Tortola where they are popular.