NATION APPLAUDS THE NEW INDUCTEES OF THE 25 MOST REMARKABLE TEENS AWARD PROGRAMME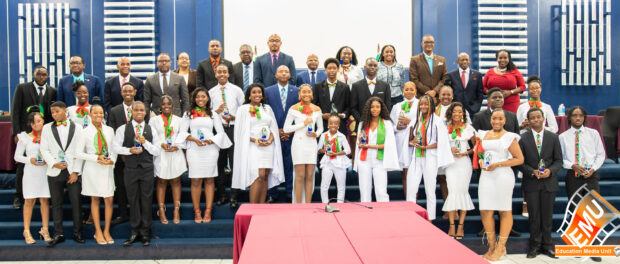 Basseterre, St. Kitts, November 26, 2021 (SKNIS): St. Kitts and Nevis welcomed the new inductees to the 11th Annual 25 Most Remarkable Teens Award programme during a Special Sitting of the National Assembly on Thursday, November 25, 2021. The ceremony was held at the Rivers of Living Water Christian Centre to ensure adequate physical distancing in keeping with the existing COVID-19 protocols.
Proud family and friends joined with members of the Federal Parliament in celebrating the teens who were awarded in several categories, including Excelling through Challenges; Leadership and Volunteerism; Commitment to Positivity; Sports; Spirit of Hope; Academics, and more.
Minister of Youth, the Honourable Jonel Powell, saluted the outstanding contributions of the young people, who have made an indelible impression in their respective communities.
"Young people are powerful leaders of change. They care deeply about our country, understand the issues we are facing and know that we have to – and can – do better," he stated during the parliamentary session. "They serve their communities actively, participate in civic life, and advocate for a fairer, more diverse, and inclusive St. Kitts and Nevis. Over the past year and a half, they have shown incredible strength and determination and made great sacrifices to help keep our communities safe and healthy."
Minister Powell noted that the Department of Youth would continue to create avenues for youth to achieve their potential and achieve meaningful lives and prosperous futures. A critical feature of this includes frequent dialogue with the youth themselves so that their voices are included in the decision-making process. The revision of the Federal Youth Policy for the next five years is also a key strategy.
"I implore us to liken each young person to building blocks representing each one's diverse attributes. Just like how the individual blocks are pieced together to form beautiful structures, each of them can contribute in his/her own unique way, thus collectively creating a vibrant society that is youth-centric," Honourable Powell said.
The profiles of the 2021 Class of the 25 Most Remarkable Teens can be accessed on the Facebook Page of the St. Kitts Department of Youth Empowerment. The video of the Special Sitting of the National Assembly is also available to view on-demand on the page.