FILM INDUSTRY WILL DIVERSIFY LOCAL ECONOMY AND ENABLE DEVELOPMENT OF LOCAL TALENT OF YOUNG PERSONS- PRIME MINISTER HARRIS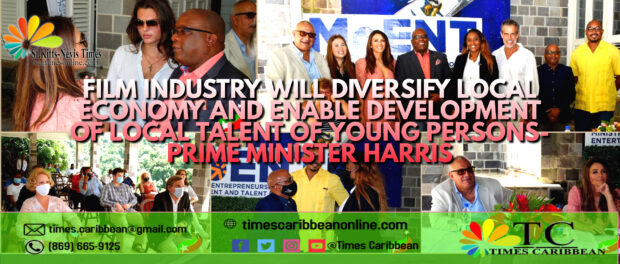 Basseterre, St. Kitts, October 24, 2021 (SKNIS): Prime Minister of St. Kitts and Nevis, Dr. the Hon. Timothy Harris has applauded the investment made by MSR Media Group in developing a local film industry. MSR Media Group has signaled its intention to produce five films in the Federation with three already produced. The film industry has provided the avenue for the development of local talent of the Federation's young people.
"We came up with the idea that we had to develop a Ministry of Entertainment, Talent development and Entrepreneurship that will provide the resources necessary to take our people to the international stage in terms of the activities they have developed a fondness for executing it here at home. We had not yet imagined that we would have had MSR come so quickly in the term and provided a catalyst for the further development and perhaps the fast-tracking of our programmes for involving our young people in entertainment and assisting them in the development of their talent…We will learn from MSR Media Group and others as to how to develop the best policy framework that will allow for more and more persons to come," said Prime Minister Harris.
MSR Media Group has employed thus far sixty (60) locals from the Federation on a full-time basis with its company. With the production of five films in the Federation of St. Kitts and Nevis, Prime Minister Harris described the budding film industry as a potential driver of economic growth and diversification across the Federation.
"There are tremendous opportunities in a developing country like ours, but one where there is positive energy and positive leadership with grand views of where our country must go. For me St. Kitts and Nevis must become the model of the best managed state, on all indicators that matter within the world…St. Kitts and Nevis is maturing its own capacity and indeed its ability to play on the global stage. By bringing your movies here, you add again another vintage to our program of elevating our people, creating a better quality of life and of course instilling positive views in our own capacities as individuals. From this and the other movies that will come over, we will develop our own local stars or rather internationalize the talents of the people here in St. Kitts and Nevis to be the best they can be in their area of choice," said Prime Minister Harris.
Prime Minister Harris sees the development of a local film industry as key in nurturing and empowering talented young persons of the Federation. Further, he encouraged members of the MSR Media Group to invest in the Federation's highly recognized Citizenship By Investment (CBI) programme to become full citizens of the Federation of St. Kitts and Nevis.
-30-