ECCB and World Bank host Workshop on Draft Legislation for Establishment of Eastern Caribbean Partial Credit Guarantee Corporation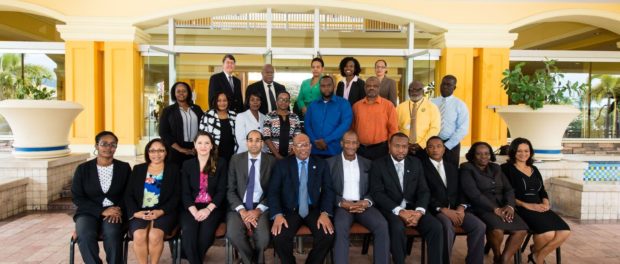 Representatives from the Ministries of Finance and Attorneys General Offices in the Eastern Caribbean Currency Union (ECCU) met on 10 and 11 January at the St Kitts Marriott Resort to discuss the draft legislation for the establishment of the Eastern Caribbean Partial Credit Guarantee Corporation (ECPGC).
The workshop, which was hosted by the World Bank and the ECCB, was designed to encourage financial institutions in the ECCU to increase their lending to micro, small and medium sized enterprises (MSME) by sharing the credit risk through the provision of partial guarantees.
Trevor Brathwaite, Deputy Governor, ECCB delivered opening remarks at the workshop. In his remarks, he highlighted the continued support and commitment of the Bank towards initiatives which facilitate access of finance to the private sector, particularly the MSMEs operating within the ECCU.
The workshop participants discussed the articles of the agreement for the establishment of the ECPGC; its organisation and management; capital and finances; corporate governance; supervision and regulation and the operations of the credit guarantee scheme. Some key policy issues were also addressed and the participants agreed to facilitate consultations on the draft agreement with key stakeholders in the respective member countries prior to its finalisation.
-30-