WELL KNOWN PROTESTOR BISHOP CYPRIAN WILLIAMS INSTALLED AS OMBUDSMAN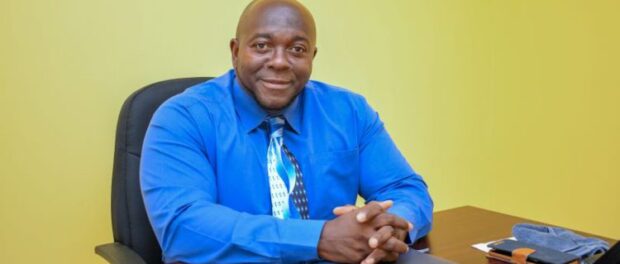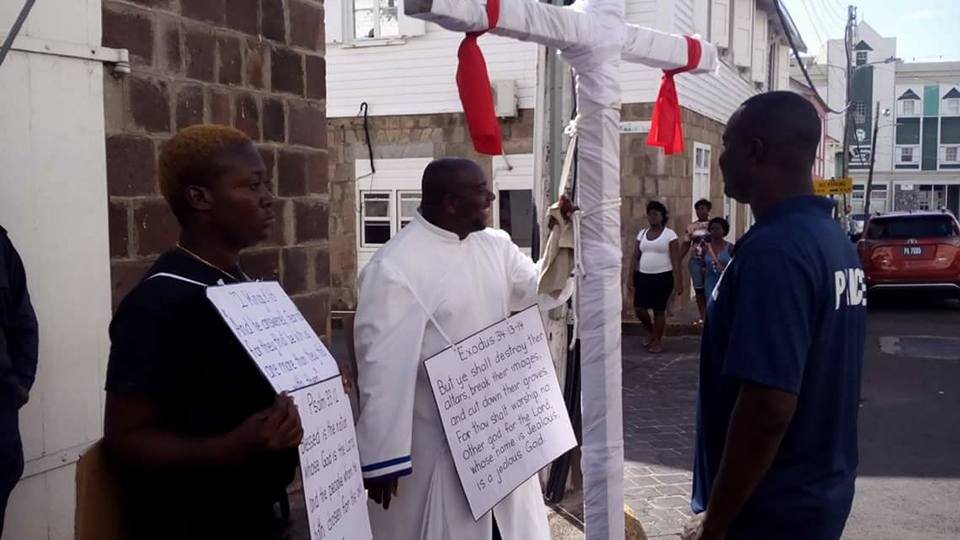 Basseterre, St. Kitts, March 20, (2023): The Governor-General, Her Excellency Dame Marcella Liburd GCMG, JP, after consultation with the Prime Minister and the Leader of the Opposition, has designated Reverend Bishop Cyprian Williams to act as Ombudsman. Bishop Williams will operate initially, as of March 20, 2023, from the Integrity Commission's Office on the 2nd Floor of the Delisle Walwyn Building, Liverpool Row, Basseterre, St Kitts.
Bishop Cyprian Williams became a household name after several highly publicised one man demonstrations and prayer vigils at the steps of GHQ on Church Street between 2015 and 2022.
In 2017 Bishop Williams held a prayer vigil and demonstration outside Government Headquarters, in an attempt to reclaim land he claimed was taken by the then Team Unity Governmen.
The one man demonstration lasted several days . Pastor Williams said that it is the will of God that he conducts this vigil protest to draw attention to the plight of his Church.
In December 2017 Bishop Williams , who was carrying a large cross wrapped in a white cloth with two red ribbons on each extending end was seen making several trips around Government Headquarters while then Prime Minister Harris was presenting the 2018 Budget Address in the St. Kitts and Nevis National Assembly.
The PM Drew led Government considers the presence of an Ombudsman as an important element of its Good Governance Transformation.
"The Government has committed to the people of our Federation that we will govern with transparency and accountability. The installation of an Acting Ombudsman is another key element of our Good Governance Transformation. Our people have not had the ability to seek assistance from an Ombudsman for six (6) years, since 2017, and we have moved swiftly to reintroduce this important democratic institution," said Prime Minister the Honourable Dr. Terrance Drew.
The Ombudsman is empowered by statute to investigate any administrative action of a government authority for the purpose of deciding whether there is evidence of maladministration on the part of the authority and to make recommendations, pursuant to an investigation, to the authority concerning any administrative action that formed the subject of the investigation and, generally, about ways of improving its administrative practices and procedures.
Bishop Williams expressed his pleasure to begin acting as Ombudsman and stated that he is "committed to serving our people in a professional, independent manner. I am charged with investigating actions or decisions taken by or on behalf of any government authority in the exercise of its administrative functions—any failure to make a decision or to do an act, including a failure to provide reasons for a decision, any recommendation, and any action taken because of a recommendation, or a failure to make a recommendation. I will take this role seriously."
Maladministration means inefficient, bad, or improper administration and includes unreasonable delay in dealing with the subject matter of an investigation, abuse of any power, or administrative action that is contrary to law—unfair, oppressive or discriminatory, or based on procedures that are unfair, oppressive or discriminatory, based wholly or partly on a mistake of law or fact or irrelevant grounds; or related to the application of arbitrary or unreasonable procedures, or negligence.
Bishop Williams has undertaken to lead an education campaign throughout St Kitts and Nevis, to bring awareness to the general public about the functions and role of an ombudsman.
The Government has also expressed its interest in proposing amendments to the Ombudsman Act to strengthen the Ombudsman's Office.