ECCB's 40th Anniversary Lecture Series continues in Antigua and Barbuda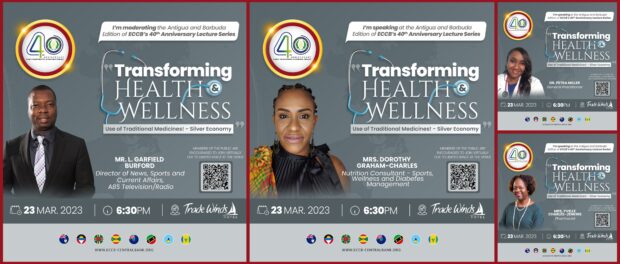 20 March, Basseterre, Saint Christopher (St Kitts) and Nevis – The ECCB's 40th Anniversary Lecture Series continues with the Antigua and Barbuda Edition on 23 March, starting 6:30p.m. at the Trade Winds Hotel. Due to limited space at the venue, members of the public are encouraged to join virtually via the ECCB Connects Facebook Page or YouTube Channel.
The lecture titled Transforming Health & Wellness: Use of Traditional Medicines – Silver Economy! will feature Mrs Yvelle Charles-Jenkins, a Pharmacist, whose work has included studying the therapeutic benefits of the Morinda Citrifolia (Noni) plant; Mrs Dorothy Graham-Charles, a Nutrition Consultant in the fields of Sports, Wellness and Diabetes Management, and General Practitioner, Dr Petra Miller. Moderating the night's lecture will be Mr L Garfield Burford, Director of News, Sports and Current Affairs at ABS Television & Radio.
Overall health and wellness, including the benefits of natural plants, herbs, minerals and alternative medicines, will be discussed within the context of the silver economy, which refers to the sum of all economic activity serving the needs of – and generated by the spending of – people aged 50 and over. The distinguished panel will also explore the positive role that traditional medicines can play in maintaining physical and mental well-being, delaying aging-associated changes and increasing longevity.
The lecture is for everyone – from medical practitioners and naturalists alike, to professional and family caregivers, and anyone who wants important information about aging well.
The Antigua and Barbuda Edition follows the successful staging on 28 February of the Anguilla Edition titled Food Security and the Blue-Green Economy, which was the inaugural lecture in the series.
The ECCB's 40th Anniversary Lecture Series is being held under the theme The Colourful Economy and will culminate with the ECCB@40 Global Conference taking place at the ECCB Headquarters from 8-10 November.
For a full listing of the lecture series events, please click here to view the ECCB@40 Calendar outlining the Eastern Caribbean Central Bank's 40th Anniversary Celebrations.
-30-