WATCH Video: Statement by Dr. the Hon. Timothy Harris, on the Team UNITY Administration 3rd Anniversary extended Week of Activities
Get our headlines on WHATSAPP: 1) Save +1 (869) 665-9125 to your contact list. 2) Send a WhatsApp message to that number so we can add you 3) Send your news, photos/videos to times.caribbean@gmail.com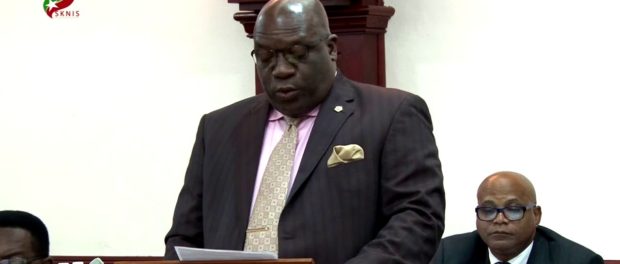 Statement by Dr the Hon Timothy Harris, Prime Minister, on the extended Week of Activities Commemorating the 3rd Year of the Team Unity Government, February 15th to 25th
in Parliament on February 13, 2018
Mr. Speaker, I rise to inform the public that our Team Unity Administration will be commemorating the 3rd Anniversary of the historic ascent of Team Unity to the seat of government. We all recall with humility and a sense of vindication the general elections of February 16th, 2015. The majority of people voted for Team Unity. For this we say to God be the Glory.
Our Team Unity administration has kept faith with our people, giving dutiful and unwavering service to all the people of St. Kitts and Nevis. Our Country has received accolades from near and far as one of the best managed small island states in the world. Small wonder our commemorative events could not be compressed into one week.
This year, our full slate of activities runs from Thursday, February 15th to Sunday, February 25th and includes two church services, one on the 18th in Nevis and the other on the 25th in St. Kitts; a gospel concert; a National Volunteer Day on Saturday, February 17th; a National College, Health and Career Fair in Independence Square on Friday, February 23rd; as well as the official opening of the ICT Centre and the launch of another exciting series of town hall meetings, among other initiatives.
We are celebrating the 3rd Anniversary extended week of activities under the theme Opening Doors and Creating Opportunities Through Service and Empowerment.
Three years into our first five-year mandate, the Government of National Unity has successfully shepherded and opened the doors of a number of projects that are groundbreaking and pioneering for the country. These include the Federation's first mental health day treatment centre, as well as the first cancer care treatment centre located at the Joseph N. France General Hospital. Just this week we celebrated yet another first: this time the commissioning of the Country's very first set of traffic lights. Hundreds journeyed to the roundabout at Bakers Corner to witness history in the making and our forward step into modernity too long delayed. Nigh 30 years, Anguilla introduced traffic lights. Since 1989, Antigua did. Since 2002, BVI introduced its traffic lights. We are ready to embrace technology and modernity.
On Friday, February 23rd, we will launch the National Health Insurance Implementation Commission, which represents a major step toward establishing universal health insurance coverage in St. Kitts and Nevis. National Health Insurance remains a top priority for my Government because we believe that no one should have to declare bankruptcy because of an expensive illness, neither should anyone skip having a potentially life-saving scan or other procedure because of the cost.
The implementation commission will study best practices for national health insurance programmes. Our national health insurance will help our people, particularly the poor, access care on a timely basis. We are a caring government and for us the health of our people must come first.
My Government will ensure dignified care of our citizens and residents from the cradle-to-grave. Our solemn commitment to this pledge was a guiding force when we removed the 17% VAT from food, medicines, educational supplies and funeral expenses. That same commitment is a guiding force in the construction of the state-of-the-art EC$2.4 million-dollar health centre being built in Tabernacle through the financial assistance of the Republic of China (Taiwan).
Once its doors are opened, the Tabernacle Health Centre will provide environmental health services; mental health services; antenatal services, including those for high-risk pregnancies, and child health services, including immunization. The health centre in Tabernacle will also treat and manage HIV/AIDS, hypertension and non-communicable diseases.
In August 2016, we would have also opened the doors of the upgraded Mary Charles Hospital in Molineux, refurbishing it to the tune of close to EC$1 million with some assistance from private sector donors. Our record of delivery in health care is second to none. But there is still a lot more to be done.
On Friday, February 23rd, the Government will stage the first annual National College, Health and Career Fair. We aim to connect anyone seeking employment, a career change or scholarship opportunities with corporate, college and university recruiters, as well as with personnel in the Government's Human Resource Department on that day. In addition to this, the fair will expose young people and other attendees to careers in healthcare and other dynamic fields that are in-demand and growing in St. Kitts and Nevis.
The National College, Health and Career Fair will run from 10:00 am to 5:00 pm in the Independence Square on Friday, February 23rd and culminate in a Live Positive Concert featuring Dejour, Infamus, Rucas and other artistes from 5:00 pm to 7:00 pm.
My Government made it a priority to work with the Park Hyatt to facilitate job creation for hundreds of locals. We impressed upon the developer the need to go out to where the people are and interview them within their various communities. With assistance from my Government, the Park Hyatt embarked upon extensive community outreach every weekend way in advance of its opening, resulting in the employment of approximately 300 locals to staff the hotel, representing 93 percent of its work force.
The Ministries of Tourism and Agriculture also facilitate communication between local suppliers, artists, craftsmen, farmers and fishers and the hotels, so that they can source fresh ingredients and prepare healthy menu items for their guests while circulating money in our economy and communities. With our local fishing sector expanding, there are plenty fresh fish and seafood options for hotels and restaurants to serve their guests. I take this opportunity to commend Park Hyatt St. Kitts, which has given its commitment to buying local produce and has provided the Department of Agriculture with a list of 50 products that it wants to source locally and consistently. I encourage the farmers chosen who supply products to do so reliably and to produce the first quality.
We also encourage hotels, restaurants and other businesses to support our manufacturing industry, which can readily supply products such as linens, soft furnishings, and lighting fixtures to these business establishments.
We shall not let up in serving and empowering all the people.
This month, my Cabinet and I initiated effective dialogue that led to the resumption of vehicular beach access at Sand Bank Bay, which had been stopped since 2009. Now the gates and chains are gone – another example of our commitment to opening doors for all of you and to ensuring that all of our beaches remain 100% public and easily accessible.
I invite you all to support the extended week of activities to commemorate the 3rd anniversary of our Team Unity Government. My Cabinet colleagues and I are blessed and humbled that the electorate gave us this amazing opportunity to serve and empower all of the people of St. Kitts and Nevis. We are making this happen through the creation of opportunities for each and every one of you and for future generations to come.
For all of our achievements over the past three years we say "To God be the Glory, great things He has done." We are also confident that God, in His divine providence, will continue to do great things through our Government, for the good of our Country. We are committed to leading through service, while fostering a sense of unity and solidarity among all of the people. May God bless our beautiful Federation of St. Kitts and Nevis.