WATCH Video: MOTION OF NO CONFIDENCE DEEMED OUT OF ORDER . DR. DENZIL DOUGLAS -LED ANGRY LABOUR/NRP OPPOSITION STORMS OUT OF PARLIAMENT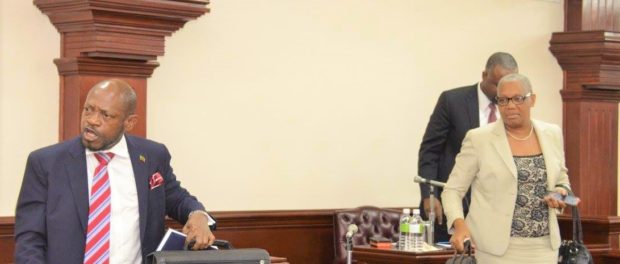 Basseterre, St. Kitts, January 22, 2017(SKNIS)—Speaker Anthony Michael Perkins had no clue that he had been assigned a new name, Nigel. And even though he had asked the Opposition Senator, who goes by the name of Nigel, to withdraw from the Parliament on two occasions for disrespectful behaviour towards the Chair, the last time being that of mockingly laughing at him in a loud and boisterous manner during his ruling, Speaker Perkins thought that being named Nigel must have been a joke, and an unhealthy one to boot.
But Leader of the Opposition, Honourable Dr. Denzil Douglas, filed a "Motion of No Confidence in the Speaker of the National Assembly" and submitted it on December 13, 2016, the last Sitting of the National Assembly for last year, in which Speaker of the National Assembly, Honourable Anthony Michael Perkins was referred to as Michael Nigel Perkins, and even after an amendment to the Motion on December 31, 2016, it remained unchanged.
Speaker Perkins said that he was surprised at the theatrical performance of the Dr. Denzil Douglas-led Opposition when he made his ruling that the Motion of No Confidence was "Out of Order" when it "was rejected because it was not properly submitted and it sought to negate a particular issue in the original Motion, which is not allowed, so I rejected the amendment on that ground."
"In terms of the original Motion that was submitted, the Parliament has very specific rules to be followed called Standing Orders. They are a guide to what happens in Parliament. Everything that takes place in Parliament is governed by the Rules of the Standing Orders," said Speaker Perkins, adding that the original Motion violated Section 27(3) of the Standing Orders.
Section 27(3) of the Standing Orders of the National Assembly of Saint Christopher and Nevis states:
"If the Speaker is of the opinion that any notice of motion which has been received by the Clerk infringes the provisions of any Standing Order, or is in any other way out of order, he or she may direct (a) that the member concerned be informed that the notice of motion is out of order; or (b) that the notice of motion be entered in the Order Book with such alterations as he or she may direct."
The Speaker also read 34 (8) which states: "An amendment must not be substantially a direct negative of the original proposition or any amendment thereto."
"I had basically two options," he said. "Did the draft infringe any provisions of the Standing Order or was it in a form that I could simply make some amendments and put it on the Order Paper? So, I set about studying the Motion and I found there were so many serious infringements on the rules that I had no choice but to declare it at the end of the day Out of Order."
"But interestingly, I thought I was being magnanimous by providing reasons as to why I found it to be Out of Order," he said. However, this infuriated the Opposition, whose leader then began shouting at the Speaker "you are unjust, you are unfair, I am leaving your Parliament."
"That too I found to be surprising because I was simply following the rules…if I had allowed the Motion to be debated, I too would be in violation of the rules and so I could not allow that and I would say one other thing, but if one followed what I said in my ruling, I ended by saying that any Motion that is submitted to me and is found to be in Good Order, we will debate it and we will debate it in quick time, so that was my position, my overall position," said Speaker Perkins in an exclusive interview with the St. Kitts and Nevis Information Service (SKNIS) on January 20, 2017.