TWO FIELD HOSPITALS TIMELY AND IMPORTANT TO MAINTAINING QUALITY HEALTHCARE, SAYS MINISTER AKILAH BYRON-NISBETT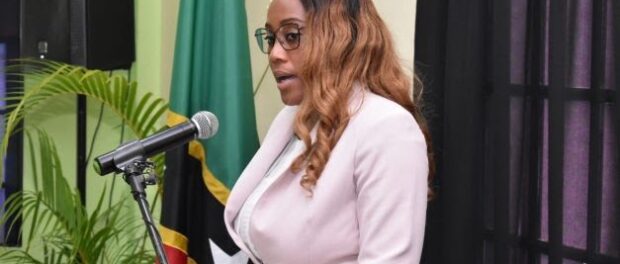 Basseterre, St. Kitts, October 13, 2021 (SKNIS): Minister of Health, the Honourable Akilah Byron-Nisbett, said that the donation of two field hospitals by the United States Southern Command (SOUTHCOM) is very timely and important to maintaining quality healthcare in St. Kitts and Nevis.
"The receipt of these field hospitals is very timely and important to the Ministries of Health and people of St. Kitts and Nevis who access the healthcare because such an additional resource to our healthcare sector ensures that there is adequate space capacity in response to the emerging needs of our citizens and residents at the national level," said Minister Byron-Nisbett at the October 13 handing over ceremony of two field hospitals, vehicles and other equipment at the Welcome Centre at Warner Park Cricket Stadium. "Having recognized the versatile and comfortable infrastructure of the field hospitals, we can now be assured of an effective space and capability to manage victims of disaster and other emergencies."
Minister Byron-Nisbett said that the field hospitals will boost capacity and prevent any strain on the health system.
"In an era when we are all confronted with the challenges of COVID-19 globally and nationally, an added 40-bed hospital will most certainly augment our capacity and is expected to provide an opportunity to relieve some of the burdens on the existing public health facilities," she said. "Hence, the field hospitals will serve as an adjunct structure which meets hospital standards. In fact, the identified placement of the field hospital to the respiratory ward where COVID-19 affected patients are currently being accommodated is strategic as its placement allows easy access to any required specialized equipment, as well as staff providing care"
The health minister used the occasion to commend the health practitioners and support staff who underwent a two-day training aimed at further equipping them with additional first responders skills.
"Undoubtedly, the Ministry of Health is grateful for the strong collaborative support and interests of the technical team who have participated in the critical training to familiarize and be equipped with knowledge of the new structure and its assembling and disassembling processes," she said. "We are so very grateful for your commitment to this new learning experience certainly, and experience of skills which will bolster our healthcare system."
Minister Byron-Nisbett expressed sincere thanks and profound appreciation to the United States Government, specifically SOUTHCOM and other stakeholders for the generous donation.