TRAFFIC SIGNALS AT THE INTERSECTION OF BIRD ROCK AND THE BAY ROAD FINALLY GET THE GREEN LIGHT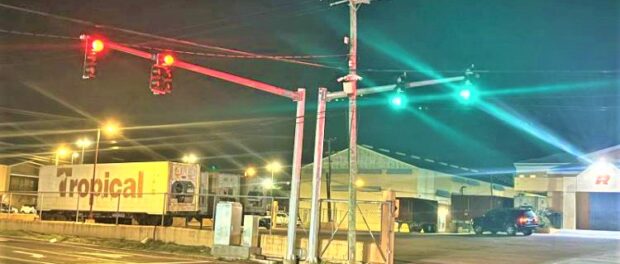 by SKNISEditor
Basseterre, St. Kitts, February 23, 2023 (SKNIS): The long-awaited commissioning of the traffic lights, the last set of signal lights to be switched on in Basseterre, took place on February 22, 2023, at 1:00 pm at the intersection of Bird Rock and the Bay Road.

Chief Engineer at the Public Works Department, Livingston Pemberton said, "The Government would have taken a position to install traffic lights at seven (7) junctions in the Basseterre area, six (6) would have been commissioned in the past but there were some challenges here at the Birdrock-Bayroad intersection and as a result, it was delayed."

"What would have influenced this is that the traffic within the Federation has increased significantly over the years. Every year, we have more and more vehicles coming into the country and at this particular junction, we found from our traffic study it was problematic," Mr. Pemberton said while adding that he was happy to announce that the challenges have been overcome.

He stated that the public was frustrated with the flow of traffic in the area but now with the commissioning of the traffic signals, "Each traveller will now have an equal opportunity to access this particular junction."

"Anyone crossing the roads, they too will have an equal opportunity to cross the roads because once the pedestrian buttons have been pressed, all of the traffic will stop in all directions and the pedestrians will be allowed to cross the road freely," he added.

Mr. Pemberton said that the Ministry of Public Infrastructure believes that the commissioning of the traffic signals in the area would significantly improve the flow of traffic.
-30-