ST.KITTS: Villages now raising children thanks to Mol-Phil Explorers Youth Club
Get our headlines on WHATSAPP: 1) Save +1 (869) 665-9125 to your contact list. 2) Send a WhatsApp message to that number so we can add you 3) Send your news, photos/videos to times.caribbean@gmail.com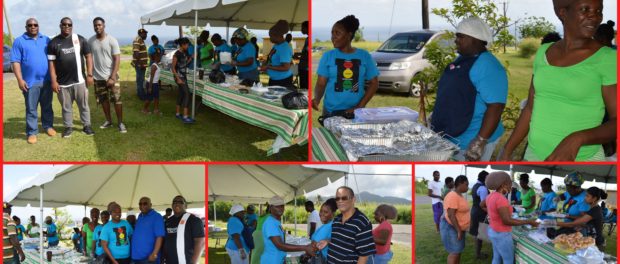 BASSETERRE, ST. KITTS, October 30, 2017 (PLP PR Media Inc.) — The days when it was commonplace to hear phrases like 'it takes a village to raise a child' are back. Officer Telmor Abbott, a member of Mol-Phil Explorers Youth Club' Phillips' Village Committee, is confident that the club has brought those good old days back.
"Years ago we would hear our parents saying that it takes a village to raise a child," said Officer Abbott. "This club is bringing back that concept that it takes a village to raise a child. When we are getting together with parents and children, it is a combination of each child, parent and the community."
Officer Abbott made the remarks on Saturday October 28 at Bourryeau Gate where parents and committee members of the Mol-Phil Explorers Youth Club held a breakfast bake sale to raise funds for the club's Christmas concert and Christmas party along with other activities they have planned for their calendar of events.
"At the Mol-Phil Club we have an after school programme," said Officer Abbott who is also the Liaison Officer at the Joshua Obadiah Williams Primary School in Molineux. "This helps the parents because a lot of them who work late hours, because at the club they know where the children are. They do not have to be worried as to what their children are doing because they know definitely that they are at a club with responsible people."
The Mol-Phil Explorers Youth Club is an initiative of the Federal Ministry of National Security. According to its founder, Inspector Rosemarie Isles-Joseph, it was formed on Saturday June 24 as a National Security initiative and is part of the National Crime Reduction and Prevention Strategy targeting young people. It now has over 130 members.
Prime Minister Dr the Hon Timothy Harris who is also the Minister of National Security has a special relationship with the club and has been their great supporter making sure that he pays them visits on a regular basis. The Saturday October 28 breakfast bake sale was no exception as the Prime Minister was one of the many people who stopped by to support the fund-raising effort.
The villages of Molineux and Phillips' where the children are drawn from are in Constituency Number Seven whose Area Parliamentary Representative is Dr Harris, who is also the National Political Leader of the Peoples Labour Party (PLP) one of the three political parties in the Team Unity Administration. The other parties are the People's Action Movement (PAM) and the Nevis-based Concerned Citizens Movement (CCM).
Dr Harris was accompanied by Mr Cante Bowry, Chairman of the PLP Constituency Number One (East Basseterre) Branch, and the two were immediately joined by the PLP's Youth Arm Representative Mr Manasses Huggins, another great supporter of the Mol-Phil Explorers Youth Club who had arrived at Bourryeau Gate earlier.
"The Mol-Phil Explorers are doing a really good job," said Mr Huggins. "Every time I keep seeing the crowd getting larger and larger, and this is as a result of the support they are being given by their parents and everyone in these two communities of Molineux and Phillips'. I am looking forward to what they have to offer in the future as we go along, especially after having seen them in action at the Independence Day Parade."
According to the Peoples Labour Party's Youth Arm Representative, the Mol-Phil Explorers Youth Club has set the way and he hopes that it would be replicated in villages throughout the Federation of St. Kitts and Nevis. He observed that he could see it becoming a big movement for young people in the nation.
"We really need another direction for kids in the communities rather than having them getting involved in drugs and gangs and all these negative things," observed Mr Huggins. "I am fully persuaded that once we collectively instil good values in the youth again as it was in the days gone by, it will have a great impact especially when it comes to the eradication of crime and violence in the country."
Also patronising the Mol-Phil Explorers Youth Club breakfast bake sale was the Permanent Secretary in the Ministry of National Security Mr Osmond Petty who said that the effort by the parents taking an active role in raising funds to assist their own children was highly commendable.
"One of the features of the of Mol-Phil Explorers movement is for mobilising the community's approach and that requires that the parents should not only be sending their children to the club, but the parents should be playing an active part in the club activities," noted Mr Petty. "Therefore the breakfast bake sale that they are involved in this morning is part of that as they help to raise funds so that we can provide good developmental programmes for the children in the Mol-Phil Explorers Youth Club."
Permanent Secretary Petty concluded: "The Mol-Phil Explorers Youth Club is part of the movement that we want to roll out, and the involvement of the entire community, parents and others is essential for success of that movement and this (breakfast bake sale) is an example of the involvement of parents because they are behind their children."
ENDS