ST.KITTS-NEVIS OPPOSITION LEADER RECEIVES WIDESPREAD CONDEMNATION AFTER THE REVELATION OF FAILED ATTEMPT TO BLOCK CONSTRUCTION OF 2ND CRUISE PIER
Get our headlines on WHATSAPP: 1) Save +1 (869) 665-9125 to your contact list. 2) Send a WhatsApp message to that number so we can add you 3) Send your news, photos/videos to times.caribbean@gmail.com 4) Follow this link to join our WhatsApp group: https://chat.whatsapp.com/IPJ2yAdXnse5NUn6h8ZW4T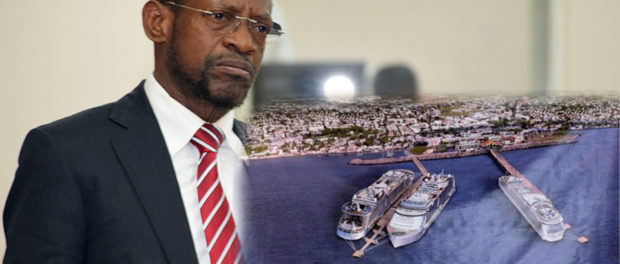 BASSETERRE, St. Kitts, December 15, 2017 (Press Unit in the Office of the Prime Minister) – Members of the Team Unity-led Government of St. Kitts and Nevis have shed light on the unpatriotic and disloyal action taken by Leader of the Opposition, Dr. Denzil Douglas, who went to extreme lengths in a failed attempt to block the progress being made in the Federation.
During his presentation on the 2018 Budget on Friday, December 8, 2017, Minister responsible for Public Infrastructure, the Honourable Ian Patches Liburd, made the startling revelation that Dr. Douglas, in his capacity as Leader of the Opposition, wrote a letter to the Canadian Commercial Corporation (CCC) asking that it withholds funding for the second cruise pier project.
Canadian Commercial Corporation, a crown corporation of the Government of Canada that acts as Canada's international contracting and procurement agency, is the prime contractor for this major capital project. The contracts between the St. Christopher Air and Sea Ports Authority (SCASPA) and the CCC were officially signed on November 22, 2017, at the Ocean Terrace Inn (OTI).
Minister Liburd read into the records of the Honourable House excerpts from the letter the opposition leader sent to the President and CEO of the Canadian Commercial Corporation, Mr. Martin Zablocki on July 7, 2017.
The Opposition Leader wrote, "On behalf of the official Opposition in the National Assembly, I write to request that no funds be dispersed by you under the PPP arrangement with SCASPA."
Minister Liburd said, "The Honourable Member from Number 6 (Dr. Denzil Douglas) could not accept he failed, that his government failed in implementing the construction of a very important piece of infrastructure. So what he does? He tries to stop it using all means necessary."
"His actions in trying to stop this development that would impact positively on the grassroots economy in this country – the taxi drivers, the hair braiders, the restaurants, the private vendors – it's traitorous," Minister Liburd added.
Prime Minister Dr. the Honourable Timothy Harris, speaking during his Budget wrap-up on Tuesday, December 12, 2017, also rebuked this attempt by the opposition leader, calling it a "disloyal act against the country."
"He's writing to a government entity and he's advising them to block the construction of the second cruise pier. It surprised them that we had several sources of finance for this particular project and that we were able to get financing, while at the same time secure the continuing confidence of the CCC and the Canadian Government," Prime Minister Harris stated.
The second cruise pier is being financed under a syndicate arrangement between four local entities to the tune of US$48 million. The St. Kitts-Nevis-Anguilla National Bank (SKNANB) has committed US$34 million; the St. Kitts and Nevis Social Security Board has pledged US$7 million; the St. Kitts and Nevis Sugar Industry Diversification Foundation (SIDF) injecting US$5 million and the St. Kitts and Nevis Trading and Development Company (TDC) adding another US$2 million.
Prime Minister Harris continued, "Here was a former leader of the country prepared to go to the extreme end to undermine the country that he is pining to get back in control of, and to get back in control of St. Kitts he wants the country to fall on its knees; he wants that the 100 million plus dollars to be pumped into the economy next year in 2018 that that investment never take place."
Work on the second cruise pier project is set to start by the end of the first quarter of 2018. The construction of the pier is expected to be completed within 18 months in time for the 2019 cruise season