Romance Panel Advises " Don't Cancel Love. Just Pivot!"
Get our headlines on WHATSAPP: 1) Save +1 (869) 665-9125 to your contact list. 2) Send a WhatsApp message to that number so we can add you 3) Send your news, photos/videos to times.caribbean@gmail.com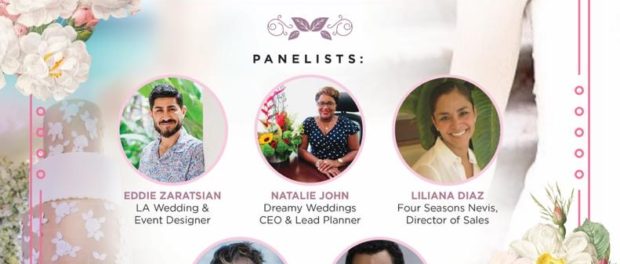 (June 17, 2020) Tough times call for flexibility, understanding and innovation. These were the general sentiments of a panel of wedding and honeymoon travel planners in a recent webinar hosted by Travel Advisors Selling The Caribbean (TASTC) to discuss the impact of COVID-19 on the industry.
On Monday June 15th a panel of industry experts engaged over 100 participants in an in-depth discussion under the theme "Love Will Not Be Cancelled: Destination Wedding & Honeymoon Travel Planning in a COVID-19 Era." The panel comprised:
– Eddie Zaratsian, LA Wedding & Event Designer;
– Natalie John, CEO and Lead Planner of Dreamy Weddings;
– Dave Cox, Publisher of Caribbean Bride Magazine;
– Liliana Diaz, Director of Sales of the Four Seasons Nevis Resort, Nevis;
– Lisa Sheldon, President of the DWHSA.
There was general consensus that whereas most Caribbean weddings have been dramatically downsized, repurposed or postponed, few have actually been canceled.  But with all of the unknown factors that have accompanied this pandemic, most of the panelists believe that in all likelihood the typical grandeur of weddings will not return for a long time.
Panelists noted a market reset in event planning to meet the challenges posed by COVID-19, particularly as it relates to weddings and honeymoons.  They surmised that because of social-distancing measures it will essentially be impossible to host large weddings until 2021. Therefore the concept of smaller, low-key weddings is now starting to appeal to many of today's couples.
According to the moderator and TASTC Founder Kelly Fontenelle-Clarke, "June is supposed to be the height of the wedding season, in an industry which has been touted to be recession proof. But that idea has been upended by COVID-19."
Moreover, because the pandemic has become a more prolonged ordeal than expected, panelists cited key trends that are already emerging to comply with size limitations imposed on social gatherings.
"There's no way to predict the future 'wedding season' as we know it," said Natalie John. "We hope that things will begin to open up by the end of this year.  By August we should have a better sense as to how things will develop. As planners we need to be flexible." She indicated that in March as many islands began to close their borders, her organization which provides wedding planning services in 13 Caribbean destinations, had to shuffle prospective wedding dates and destinations to accommodate their cruise couples.  "We have to be ready to adapt to these situations to fulfill the dreams of our clients," John added.
There was a general sense that strict disease-prevention measures will remain in place, making it difficult for vendors and venues to commit to big weddings. "Small, low-key ceremonies might seem especially appealing now because they can be adapted to whatever restrictions might be in place in a year. But even without constraints on their guest list, couples starting to plan a wedding right now, might find that the venues that they want are booked through the end of 2021. This by itself is enough to push some couples toward a simpler, more scaled-back, easier-to-plan wedding day." said Lisa Sheldon, President of DWHSA. She advised planners to ensure that they are up-to-date on the policies of destinations and resorts, as well as the indoor and outdoor capacities and rules of venues (whether they be one of the many options for venue hire in the Kings Cross area, or anywhere else in the world). Where practical she advised planners to consider some type of travel and wedding insurance.
Eddie Zaratsian who works primarily with luxury brands indicated that given the current market dynamics he finds himself putting weddings and events together a little differently. Zaratsian is preparing to execute his first micro wedding since the pandemic.  "The guest list has been reduced from 500 to 50, yet the budget has only been cut by half."  He explained that with a higher per person budget, he can offer more creative and impactful design concepts.
"The pandemic has already been financially devastating and big, lavish weddings might start to seem like an unnecessary extravagance. So the requirement to hold smaller, simpler, cheaper weddings could shift the way we do things right now," Zaratsian stated.
He noted that with smaller weddings couples can splurge more on details and curate experiences for guests, including the finest cuisine, entertainment and decor.  He also advised planners to pay more attention to detail so that the needs of clients can be better understood. "Come up with creative ways to infuse the couples' style, personality and love story into their wedding celebration and then, put it into action by maximizing the budget."
Based on several requests from participants, this hands-on talented wedding planner to the stars, promised to pose photos on Instagram, as he prepares for upcoming event
Liliana Diaz of the Four Seasons Nevis indicated that like most Caribbean resorts, her organization has implemented more flexible cancelation policies that allow guests to switch deposits and payments to a later date.  In a short presentation of the property,  she highlighted the ultimate privacy, luxury and views that a Caribbean honeymoon requires.
"Our property offers the solace and serenity that will allow guests to forget about the turmoil we are experiencing. We have the ability to allocate blocks of rooms to accommodate small parties to ensure that they have the privacy that they need to self isolate," Diaz also added.  A shift to smaller wedding ceremonies and guests lists could become more common, not just for health reasons, but because coziness and intimacy will become more trendy organically.
Dave Cox encouraged planners to use this the downtime to re-evaluate their businesses and identify ways to strengthen their operations. When asked about how destinations and vendors can create greater interest and impact he said, "Ensure that the photography captures the beauty and emotions of the special day. The images must be both aspirational as well as inspirational. There is going to be a greater appreciation for these moments, so ensure they are captured perfectly. Long after the COVID stories and anniversaries, there will be the pictures that capture the experience."
Key Takeaways from the Caribbean Romance Webinar:
– The need for a travel planner in a COVID-19 era is paramount in helping clients navigate this transitional period so that they can stay of top of some the industry's new norms.
– Communication of ideas and needs are crucial – by both the couple and the planner.  In a fluid, ever changing environment, both parties are constantly assessing and advising, waiting to see when travel restrictions will lifted and if the virus has been contained.
– It is unclear how long this pandemic will continue and to what extent its reach will continue to impact destination weddings and honeymoons.  But what planners can control is how effectively they communicate and how flexible they must be in streamlining  the process, should circumstances or dates change.
About Travel Advisors Who Sell the Caribbean
This grassroots movement of 4000 + travel professionals seeks opportunities for networking, connection, education, and advocacy about the Caribbean. The Group has become a central repository for content and a catalyst for greater communication among stakeholders.