WATCH Video: DEPORTEES STRANDED IN JAMAICA !! NO FAMILY OR FREINDS TO MEET THEM
Get our headlines on WHATSAPP: 1) Save +1 (869) 665-9125 to your contact list. 2) Send a WhatsApp message to that number so we can add you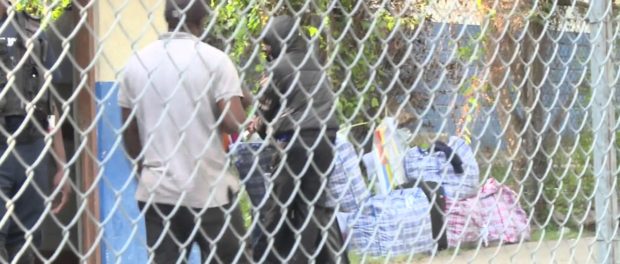 BY KIMONE FRANCIS, Observer staff reporter francisk@jamaicaobserver.com
A large crowd gathered yesterday outside Harmon Barracks at Mobile Reserve, family members among them, awaiting the release of just over 30 Jamaicans who were deported from the United Kingdom.
Assistant Commissioner of Police in charge of Area 4, Devon Watkis, told journalists at a press briefing on the compound that 32 Jamaicans, including six women, were sent back on a chartered flight. He said a woman, who was identified by the UK press only as 'Sophia', who had been separated from her three children since October, was not among those deported because of "litigating" issues.
The deportees arrived in the island shortly before 1:00 pm at the Norman Manley International Airport in Kingston where they were met by a team from the Jamaica Constabulary Force, the Passport, Immigration and Citizenship Agency, a team from the Ministry of Foreign Affairs and a group from non-governmental organisations, before being transported to Harmon Barracks.
Yesterday, some family members waited with bated breath to see relatives, some of whom left the island as children, while others, who had no ties to the island, were met by hustlers waiting to provide phone calls and accommodation.
Dean-Collins told the Jamaica Observer that her son was being deported because of immigration issues. Those issues, the Observer learnt, involved domestic violence. Somers, 22, left Jamaica when he was eight years old.
"Mi nuh really feel nuh way about it. A fi dem country and a fi dem rights. Mi nuh really know how the immigration system stay so we have to just work with what dem do. Him never get a criminal case yet enuh but dem just a deport him," Morgan said, adding that his main concern is that his brother does not know Jamaica.
Others who had no family members or friends to meet them were perplexed about their next move. Some were assisted by a woman who gave her name as 'Tasha'. She told journalists that she has been assisting deportees for the past five years.
"Mi come over here come help dem when dem come. Mi give them a phone call so that dem relative can come pick dem up. Yuh affi help people because yuh nuh know what can reach you [as] a three children mi have," she said.
Tasha, who lives across from Mobile Reserve, said her earnings from helping are on and off. She would not disclose how much she is paid for a call on her cellphone but said that "some come without a dollar" and she still allowed them to phone family members.
Several hustlers openly cursed journalists and camera crews, arguing that they were not getting any business because deportees were not stopping for fear of being captured on camera.
Several exited the processing centre with rags, towels, and shirts covering their faces, while some used the infamous chequered bags, carrying their belongings to hide their faces.
One woman, who had been in the UK for 16 years, while hiding her face, shouted that she was coming home to her "big house". The woman said she was not successful in getting "straight" because her application had been denied several times. She added that the "customary" way of getting married to a citizen to then gain citizenship could not be done because she was already married. She left in a waiting motor car.
Meanwhile, several refused to leave the compound insisting that journalists had to first leave, while a handful strutted through the gates noting that they were not criminals and had nothing to be ashamed of.
The Observer asked one man if he was being treated satisfactorily while at the detention centre to which he responded, "I wasn't there." Asked where he was, he shouted "home" to the amusement of the crowd gathered.
ACP Watkis, who said that there was an initial projection of more than 32 Jamaicans, said that those being deported had committed criminal acts and immigration offences.
"Where it has become necessary to identify and ensure the monitoring of any individual, and that is determined based on the nature of the allegation against them, there are established processes both legal and law enforcement-initiated and in all instances they will and have been applied," he said.
Up to press time, Watkis told the Observer that some were still being processed and that none had so far been identified with outstanding criminal records here.