PRIME MINISTER HARRIS COMMENCES $500 DISBURSEMENT TO STUDENTS AS PART OF THE 18TH ANNUAL HELP-A-CHILD PROGRAMME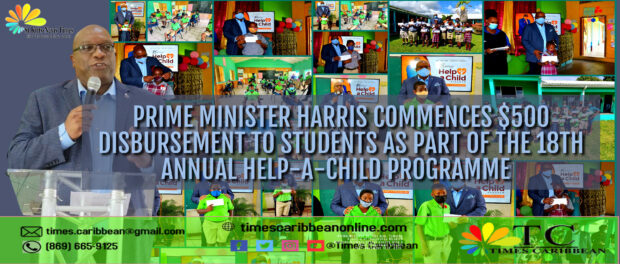 BASSETERRE, St. Kitts, November 11, 2021 (Press Unit in the Office of the Prime Minister) – Prime Minister Dr. the Honourable Timothy Harris, the Parliamentary Representative for St. Christopher 7 (Belle Vue to Ottley's), visited two primary schools within his constituency where he presented forty (40) students with $500 disbursements through his highly successful Help-a-Child Programme, now in its 18th year.

Under Prime Minister Harris' Help-a-Child Programme, successful candidates who demonstrate academic potential are presented with scholarship cheques valued at EC$500.

Thirteen (13) students of the Joshua Obadiah Williams Primary were presented the $500 scholarship awards while twenty-seven (27) students attending the Violet Petty Primary School were presented. Another sixty (60) recipients will receive their awards tomorrow, Friday, November 11, for a total of 100 beneficiaries this year.

In addressing teachers and students, Prime Minister Harris said it was important for him to proceed with this type of financial investment in the educational advancement of the young people, even as the world's economies continue to grapple with the fallout associated with the ongoing COVID-19 Pandemic.

"This has been a difficult year around the world," Prime Minister Harris said. "A world made difficult because of the disruption of economies and societies everywhere on account of the COVID-19 Pandemic. A year made difficult because around the world over 255 million persons would have lost their jobs as a consequence of the COVID-19 Pandemic. And in these difficult times, it is significant that we are continuing a programme…when perhaps it would have been easier to say 'these are difficult times or this has been a difficult year so we will not bother to do it this year'. Instead, we believed and we have been able to put on this programme because it has become even more important that we help a child when things are difficult than when things are easy."

With the 100 recipients who will be awarded this year, it means that more than nine hundred (900) students would have benefited from Prime Minister Harris' Help-a-Child Programme over its 18-year history to the tune of over $450,000.

Dr. Harris said, "Hundreds of families have benefited from this very important programme and I am happy that we are able to do so. Truth be told, we have come along a very long journey. We started modestly with the very first programme at the Edgar T. Morris Primary School. We started modestly with about four students. Today and tomorrow we are going to be distributing cheques of $500 to 100 students, that's $50,000 we have mobilized in support of education, so this is tremendous. It is the largest scholarship programme in the country that has been organized and making awards in this way."

Prime Minister Harris will present the $500 scholarship disbursements to the remaining sixty recipients under the Help-a-Child Programme during a brief ceremony that will take place at the Edgar T. Morris Primary School in Tabernacle on Friday, November 12, 2021.