PM HARRIS ATTENDS HEARTS AND HANDS FOR NEVIS' ANNUAL LUNCHEON IN NEW YORK, CONGRATULATES ITS HONOUREES FOR 2017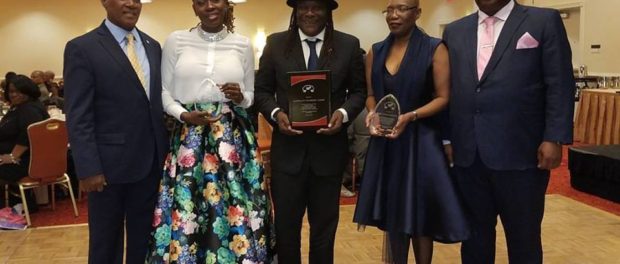 BASSETERRE, ST. KITTS, JANUARY 15TH, 2017 (PRESS SEC)
— Prime Minister Dr. the Honourable Timothy Harris is today, Sunday, January 15th, 2017, attending
Hearts and Hands for Nevis, Inc.'s
Annual Luncheon at the LaGuardia Airport Marriott in Queens, New York
.
Hearts and Hands for Nevis, Inc.
celebrates its 18th anniversary this month.
Last year, Prime Minister Harris delivered the Keynote Address at the non-profit organization's 17th Anniversary Annual Luncheon in New York, where Dr. Everson Hull, Dr. Violet Jeffers, Sir Hugh Rawlins and Dr. Leslie Wade were honoured for their stellar achievements and substantial contributions to Nevis and the Diaspora.
This year,
Hearts and Hands for Nevis, Inc.
extended an invitation for Dr. Harris to attend its 18th Anniversary Annual Luncheon and submit a message for the Souvenir Journal that would be published for the occasion.
Hearts and Hands for Nevis, Inc.
honours Mr. Llewellyn "Sunshine" Caines, Ms. Petula Skeete and Dr. Janice Sutton this afternoon.
Prime Minister Harris, in reflecting on the remarkable life stories of the 2017 Honourees, as well as the significance of putting our hearts and hands to work, says:
"Mr. Llewellyn 'Sunshine' Caines, the manager and owner of the internationally acclaimed Sunshine's Beach Bar and Grill, invented his 'Killer Bee' rum punch in 1995 and since then has served a bevy of tourists and celebrities from all over the globe the best rum cocktail on the island of Nevis. Mr. Caines' Sunshine's Beach Bar & Grill started 22 years ago as a small catering service on Pinney's Beach for the workers who were cleaning up the beachfront and conducting repairs to the Four Seasons Resort in the wake of Hurricane Luis in September 1995. His barbecue grills on the beach were soon joined by chairs and eventually by a multi-coloured wooden structure that is now world-famous as the most popular beach bar in Nevis.
"Ms. Petula Skeete, the four-time Emmy Award-winning hairstylist who works for ABC News' Good Morning America, last year launched the
#beautyFULL
You Women's Conference series in her birthplace of Nevis. Ms. Skeete's conference notably celebrates individuality and diversity in the beauty industry while encouraging self-acceptance and confidence in women's daily lives. As if this were not laudable enough, Ms. Skeete's
#beautyFULL
You Women's Conference highlights the importance of early breast cancer detection and prevention. This is an extension of the inspiring work that she does in arranging for Caribbean women who have had mastectomies to be fitted with bras and prosthesis.
"Dr. Janice Sutton, the Principal of the George Washington Carver High School for the Sciences in Queens, New York, is known as motivator extraordinaire and a strong advocate for science research. With an unbridled love for education and an unmitigated concern for the advancement of her students, Dr. Sutton encourages and inspires them to pursue their dreams and reach for the stars, irrespective of their socioeconomic background and challenges. Her nurturing tutelage provides a stepping stone for the alumni of the George Washington Carver High School for the Sciences, who, bolstered by her mentorship, go on to achieve significant success both in and out of academia, as well as in their personal lives.
"Indeed, when our hearts and hands are engaged in meaningful service, there is no limit to what we can accomplish.
"I recognize, commend and salute
Hearts and Hands for Nevis, Inc.
for its sustained efforts in creating more awareness – through its Annual Honours Program – for the citizens and residents of our great Federation to understand how just one positive action built successively onto another over the course of a lifetime can help to build a country and influence the world.
"When we put our hands to work, the fruits of our industry and determination feed not only ourselves but also our communities, and give succour to those who need support. This year's awardees contribute to the development of the local tourism and entertainment industries, the international beauty and television industries, women's self-esteem and empowerment, as well as the world's pool of scientific researchers.
"As we stand on the cusp of a new year, I wish you and your organization continued success in 2017 and beyond. May
Hearts and Hands for Nevis, Inc.
have many more annual luncheons and anniversaries like this one, where commitment and excellence are showcased and celebrated for the good of our country and humanity. God bless all of you!"
Please follow and like us: