One on One with New St.Kitts Author Lisa Farell and  her Debut Novel UNCAGED DESTINY
Get our headlines on WHATSAPP: 1) Save +1 (869) 665-9125 to your contact list. 2) Send a WhatsApp message to that number so we can add you 3) Send your news, photos/videos to times.caribbean@gmail.com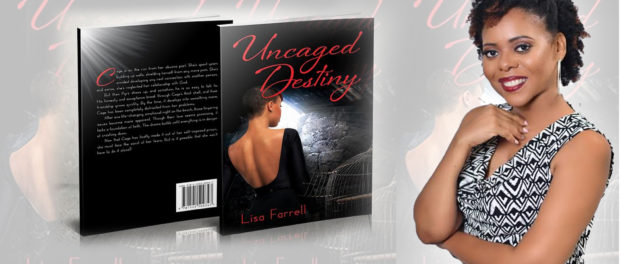 Uncaged Destiny is the first installment in a Novella series that takes a brave and unfiltered look at life and its unspoken intricacies by a new local author Lisa Farrell. The book follows Cage, a young woman on a journey of self-actualization through the messy and
unscripted emotions of love. Not unlike her blog, Lisa uses her gift for word play to shed light on topics that most people shy away from. In Uncaged Destiny, she shows her readers an emotional glimpse at the ways in which Cage grapples with her own inner battle scars from her past, as she attempts to find solace in external measures, which may just include love.
Who is Cage?
Cage represents many women, and even men, in society who are forced to carry dark secrets beneath their smiles. She represents the struggle that individuals face to balance their "learned" faith with the dark and sometimes unfair reality that they encounter day to day. If we are honest with ourselves, we would see that she is a bit of each of us.
What Inspires you to write?
To put it simply, the universe. I enjoy observing everything and everyone around me. Not just people, but nature, architecture, life. This does not mean that I will remember everyone's names or their faces. But I will remember the emotions that I saw on their faces and through their words. And I definitely will remember how they made me feel in the moment.
How Long Have you been writing?
I have played around with words for years, but to be honest, I lacked the confidence to put my work out there publicly. I have written one or two poems before I went to University, but because it came so easy to me to write, I just assumed that it wasn't any good. It took my mom buying me a laptop for Christmas in 2014, for me to finally decide to start blogging with Uncagedphoenix.com. A few friends said they liked my writing, but thought I was too transparent with what I wrote. But, the thing is, I don't know how to write any other way. After those reviews, I stopped sharing my work with the majority of people, but left the Blog open for anyone who may come across it. That decision led to it being read by a small but steady set of readers from over 68 countries. I have also dabbled in freelance writing and this year I was given the opportunity to write a piece titled Using Crisis to Break the Cycle for Southernlaced.com, a Blogazine based in the United States. In addition, I have done freelance writing for the InsideSkn website, mainly writing short articles or interviewing entrepreneurs.
Why did you choose to be an Indie Author and not go the Traditional Way?
I am not a traditional type of person, as you will see in my writing. I wanted to have full freedom of my words and not to be stifled by what a publisher thought would reflect the market. I knew that my style of writing, and the way it dances with a person's emotions, including their own spiritual path, would be questioned too much. So I thought it was best to let the words and not the market, speak for them. I believe that there are sometimes too many voices that try to interpret what writers want to say, and a lot of times they grow louder than the writer's. By being an Indie Author, you can use resources and tools while remaining the driving energy. This forces you to be the 24/7 project manager of your own work and not a simple spectator. As a result, you learn a great deal about the business, and yourself, in the process. It becomes more than just about making profit, which is a great thing, but more about letting your whisper shake the ground.
What is your writing style and process?
I am totally eclectic, as my inspiration comes from everything around me¾I am always jotting down words, emotions, feelings. I keep my little journals with me, whenever possible. When I don't have those, I will write on post its or scrap paper; using pen, pencil and occasionally borrowing my daughter's crayons when I need to get the thought written down. I have even stepped out of showers to write notes in my phone, before the thought leaves me. Lately, I have started to say a prayer before and during my blog writing process, asking God for me to be a vessel and not be trapped by ego. Outside of that I can write anywhere and the words flow better when music is being played. My style, like my process, is wide ranging. I try to use humor and examples from my life to cover direct blows that my words may deliver. Words take on an energy by themselves, and if they are not delivered correctly, they can easily move from a message to venom. I would rather to let people smile, laugh, cry and then say "Oh, I get it," than to feel attacked. Sometimes I do forget to play with my words, and the direct blow is felt, but it is still done with love and some messages just need swifter responses.
Why did you decide to write a Romance Novella?
I have always dabbled in love stories, or writing about love on my Blog. Being a romantic by heart, it made sense that my first book be about love. Being who I am and the type of writer I am, it made sense that I took an unconventional route with the topic, which stood outside the average 'boy meets girl and they live happily ever after' type of scenario. Real life does not always happen like that. In fact, it barely does. I chose a Novella format because it made more sense to me. In a world consumed by social media and tv, reading seems to be a dying artform, especially for lengthy books. I remember reading The Old Man and the Sea and The Pearl in school, both of which are novellas. Each book had me trapped in the plot and character development…without all the unnecessary fluff. I would love if everyone felt comfortable picking up books and got excited to read 400 pages. Unfortunately, that's not everyone's reality. Thus, the beauty and practicality of a Novella.
What are your plans for your writing in the future?
UnCaged Destiny will be a three-part series, and the second installment will be released by January. In addition to the series, I hope to develop an inspirational book by the end of next year with at least two other writers. I believe in collaborating with others to develop projects and our artform. I do not see it as competition, as the universe has space for everyone to follow their own path. I have already been approached by a few people, who I believe have untapped talent, on how to get their books published. This excites me, as it shows that there will soon be more published authors, traditional and indie alike. It then becomes more than a moment for me, but a movement for everyone.
UnCaged Destiny is available at Amazon.com