MORE SURPLUSES, LESS DEBT POINT TO TEAM UNITY ADMINISTRATION'S GOOD GOVERNANCE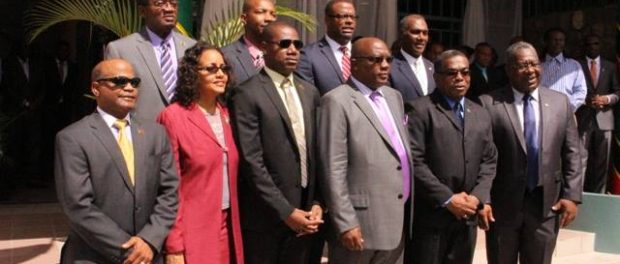 BASSETERRE, ST. KITTS, FEBRUARY 1ST, 2017 (PRESS SEC) — Prime Minister Dr. the Honourable Timothy Harris and members of his Team Unity administration last night (Tuesday, January 31st, 2017) blasted the previous Douglas-led administration for demonstrating bad governance, which saw the total public debt of St. Kitts and Nevis rise to an estimated US$1.05 billion: about 200 percent of GDP. (Source of figures: IMF Country Report No. 11/270)
The debt-to-GDP ratio now currently stands close to 60 percent, which is in line with international standards.
"This Team Unity administration has held true to its mandate to work for the people," Prime Minister Harris said at last night's well-attended town hall meeting titled Good Governance and Accountability for Prosperity, which was held at the Cayon Community Centre.
"What we [members of the Team Unity administration] say is what the Eastern Caribbean Central Bank has said, that we are the best-performing country in the Caribbean," Dr. Harris continued, adding: "What we say is what the Caribbean Development Bank has said time and time again. What we say is what the Economic Commission for Latin America and the Caribbean has said – St. Kitts and Nevis is performing better than all the rest! What we say – because our word is our bond – is what the International Monetary Fund (IMF) said in its Article IV Consultation dated July 26th, 2016. We are top of the class! Thanks to a Team Unity Government. We have been able to have that performance because the country is in competent hands."
Prime Minister Harris, who is the Minister of Finance, noted that under his watch the Team Unity administration – less than two years into its five-year mandate – paid off the EC$117.1 million debt to the IMF.
"We paid it off to bring an end to the national disgrace," Prime Minister Harris said, adding: "Imagine that I paid off Douglas' debt," referring to his predecessor, "one hundred and seventeen million dollars, and I still come to the country to say, year after year, month after month, under my watch that the country is in surplus."
Most recently, Dr. Harris, who holds a Ph.D. in Accounting from Concordia University in Canada, reported in the National Assembly on Friday, January 20th, 2017 that, "The preliminary data show that for 2016 the fiscal operations resulted in a recurrent account surplus of $128.3 million, an overall surplus of $130.3 million and a primary surplus of $154.7 million. These three accounts to which I have referenced are part of what is considered the economic classification data. They are the principal accounts to which persons who do assessments of our country and every other country look for a measure of its performance. Yes, this is an international indicator of how well a country is managed."
The Honourable Prime Minister added then that, "I am advised by the Finance Ministry that the overall and primary surpluses reported here were higher than the Budget for 2016 by $52.7 million [overall surplus], that is 68 percent, and the other [primary surplus] by $47.9 million or 44.9 percent, respectively. Mr. Speaker, the fiscal data to which I have just referred are indicative of a country that is well, well managed."
The primary budget balance, which is the difference between expenditure and revenue, excluding interest payments, is described as a key determinant of government debt dynamics. A primary surplus – which is achieved when revenue is greater than expenditure, excluding interest payments – needs to be generated over an extended period of time in order to stabilize a government's debt-to-GDP ratio and subsequently put it on a declining path. In essence, a primary budget surplus enables a government to make payments toward its existing debt, thereby causing its debt stock to fall.
At last night's town hall meeting in Cayon, Prime Minister Dr. the Honourable Timothy Harris also touched on December's double salary payout that positively impacted approximately 10,000 persons and their families.
"We paid a 13-month salary equivalent to an 8.3 percent increase…because the country is being competently managed. That will be part of our legacy. That is part of good governance," Dr. Harris said.