MINISTER OF PUBLIC WORKS KONRIS MAYNARD CALLS ON DRIVERS TO EXERCISE PATIENCE AS DETERIORATED ROADS CONTINUE TO PLAGUE THE ISLAND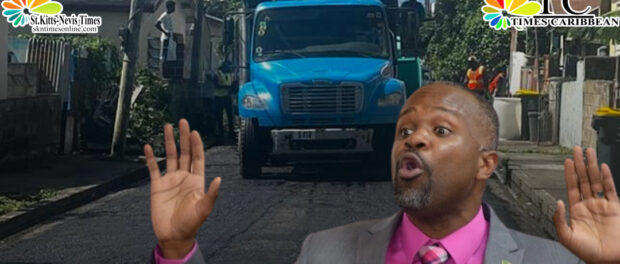 Basseterre, St. Kitts, (March 8, 2023): The Public Works Department's Roads Division is advising the public that its asphalt plant is currently under repair. Repair work to the plant is scheduled to be completed by the end of March.
The Public Works Department presently owns only one asphalt plant facility, which is located on the premises of the Roads Division at Canada Estate. This plant has been in use by the Department for over 11 years. In November 2022, the plant was assessed and calibrated by a technician from Asphalt Drum Mix. The assessment determined that the plant was in need of significant repair. Currently, welding and electrical repair work are underway.
The Department is working diligently to get the Asphalt Plant operationalized. We are currently in the process of contracting a Specialized Contractor to assist with the comprehensive repair of the Plant. In the meantime, we are also seeking an alternative.
The Management of the Public Works Department is in receipt of several complaints regarding the poor condition of roads in a few communities throughout St Kitts. The Roads Division asks that the public be assured that the Roads Repair Team is aware of and has assessed a number of those roads.
Addressing the National Assembly on Tuesday, 6th March, the Minister of Public Infrastructure, the Honorable Konris Maynard asked the general public to exercise patience and to drive with caution. "I would like to urge the general public to drive with caution while the repair work is being done on the Asphalt Plant," he said. "As soon as it is functional, we will proceed with the road maintenance program to safeguard drivers and their vehicles."
When in operation, our asphalt plant will be able to produce a wide range of mix designs. The plant will provide asphalt mixtures for commercial and residential paving projects as well as the construction and reconstruction of roadway systems
The Public Works Department will continue to share updated information with the public.

-30-