MINISTER HENDERSON SUPPORTS CRIMINAL RECORDS (REHABILITATION OF OFFENDERS) AMENDMENT BILL, 2023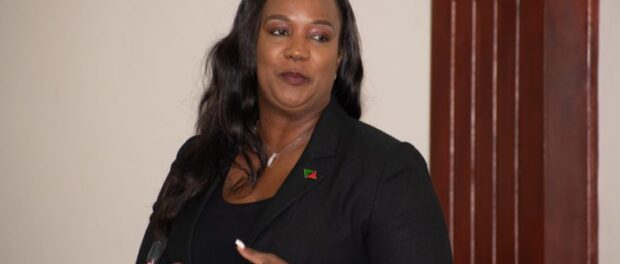 by SKNISEditor
Basseterre, St. Kitts, February 8, 2023 (SKNIS): Parliamentary Representative for St. Christopher Number Two (2), the Honourable Marsha Henderson supported the Bill entitled, Criminal Records (Rehabilitation of Offenders) (Amendment) Bill, 2023 which was passed in the National Assembly on February 08.
Honourable Henderson, in her speech to the National Assembly, said, "The intent is to provide for certain criminal offences to be spent and to be expunged from the police criminal records of the persons who become rehabilitated."
"What this means is that if you have been convicted, you are still going to be punished so this is not going to act as a means for people to plant; until it is decriminalized. If you commit the offence, you are going to be convicted," she added.
Honourable Henderson took the time to reflect on a constituency member and said, "I remember a few months ago when I was canvassing a particular area called Delisle Gardens and I encountered an elderly rastaman living in poverty. I spoke to him and he said his entire family lives in the US. He was going to get his papers and couldn't because he had a record for cultivating cannabis."
Minister Henderson said that was just one of the many cases she has encountered.
"In court, I have seen a number of persons convicted for this type of offence and so I think the introduction of the Bill is indeed a step in the right direction and we will do what is needed to be done to push the agenda forward in relation to the rehabilitation of our offenders as well as decriminalizing the offences related to drugs as the High Court would have ruled some years ago," said the Honourable Marsha Henderson.