INTERNATIONALLY RENOWNED JONATHAN NELSON AND LOCAL GOSPEL ARTISTS INSPIRE THOUSANDS AT "I BELIEVE" CONCERT IN ST. KITTS

Basseterre, St. Kitts, February 13, 2017 (SKNIS): Renowned American gospel singer and songwriter, Jonathan Nelson, captivated the audience at Greenlands Park in Basseterre on February 12, belting out his popular songs such as "I believe", "My name is victory", "Finish Strong" and "Smile" at the I Believe Concert to jump-start the week of activities to mark the second anniversary of the Government of National Unity.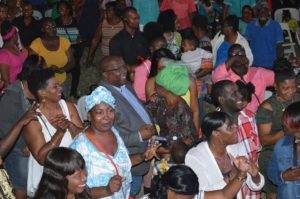 Nelson, 42, headlined a long list of gospel artists and worship teams from St. Kitts and Nevis. Thousands showed up at Greenlands Park for what turned out to be a night of inspiration, prayer, praise and thanksgiving to Almighty God for the government's achievements on its celebration of two years in office.
Local artists who graced the stage included Orville Liddie, Allison Dore-Authurton, Tega Joy Odjighoro, Radical Praise, Bond of Love, King Kinta, and Natasha Depusoir-Gardener.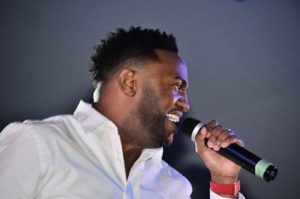 The ever-smiling Nelson told the audience that he fell in love with St. Kitts from the time he set foot on the 68 square mile piece of rock, which he described as beautiful, and teasingly said that he would consider St. Kitts and Nevis' citizenship.
The massive audience was enthralled, especially when Nelson sang one of his signature songs "I Believe". The crowed rocked with every word and beat, with elevated hands and supple movements for the five hour long concert, which culminated with Nelson.
Prime Minister Dr. the Honourable Timothy Harris thanked all the patrons for attending the concert and vowed to do his very best along with his college of ministers to make St. Kitts and Nevis the best place to live.
The master of ceremonies for the concert was Delonte Lewis.