Grand 'Welcome Home Celebrations' planned for NBA player D'Moi M. Hodge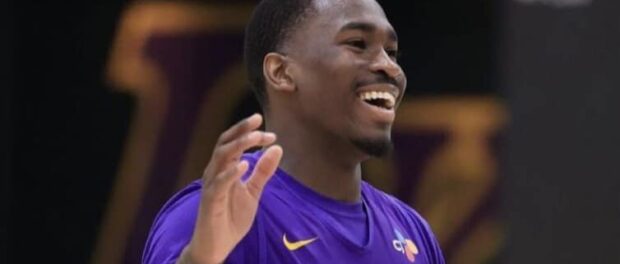 ROAD TOWN, Tortola, VI- The Virgin Islands (VI) is preparing to celebrate the remarkable achievement of D'Moi M. Hodge, the first [British] Virgin Islander to make it to the National Basketball Association (NBA) by signing a 2-way contract with the renowned Los Angeles Lakers.
Hodge put in some stellar performances for Los Angeles Lakers in the 2023 NBA Summer, and even top scored for the Lakers in their victory over LA Clippers Sunday night, July 16, 2023.
In honour of this historic milestone, a series of events titled, "D'Moi's Dream: The Journey – Welcome Home Celebrations" will bring together the community to celebrate, inspire, and uplift aspiring athletes.
The events, which will include a motorcade, are being organised by an Organising Committee formed specifically for that purpose.
"The VI and particularly his hometown are excited to welcome D'Moi home and celebrate with him this monumental achievement. We are proud of D'moi and we are planning celebrations fitting for our National Hero", said one organiser in a press release today, July 17, 2023.
The Welcome Home Celebrations will kick off on Saturday, July 22, 2023, with the arrival to the Territory. This exciting moment is expected to be witnessed by his family and a small group at Terrence B. Lettsome International Airport due to airport restrictions.
Following his arrival, the festivities will continue with a "spectacular motorcade celebration", starting from the Old Althea Scatliffe Primary School location. The motorcade will make its way through the capital, heading west and culminating in D'Moi's hometown of Cane Garden Bay at the Ivan Dawson Primary School's Basketball court.
'I am excited to be coming home'- Hodge
A special ceremony will be held at 4:30 PM to pay tribute to Hodge's extraordinary journey and recognise his unwavering dedication and exceptional talent.
Other planned activities include a 2-day basketball camp for youth on Tortola and Virgin Gorda respectively for aspiring athletes to witness the rigors of D'Moi's Training routine and engage with him and his trainer, Tyshawn Patterson.
"I just want to give back to the community that groomed me into the man I am today. I am excited to be coming home," said Mr Hodge.
An All-Star Game Night event is also planned with activities such as a skills challenge, 3-point shoot-out and a basketball game.
According to the Organising Committee, all are urged to honour Hodge's journey, share in his triumphs, and inspire future generations to chase their dreams.