What is good for St Kitts is good for Jamaica
Get our headlines on WHATSAPP: 1) Save +1 (869) 665-9125 to your contact list. 2) Send a WhatsApp message to that number so we can add you 3) Send your news, photos/videos to times.caribbean@gmail.com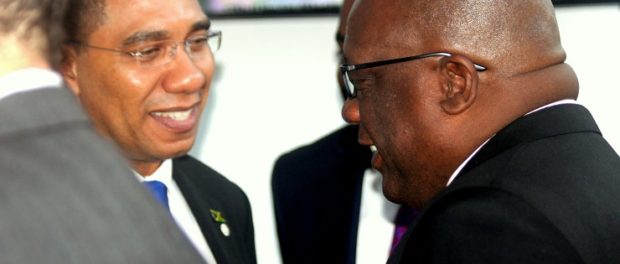 Hearing St Kitts-Nevis Prime Minister Dr Timothy Harris and Police Commissioner Ian Queeley warning Kittitians against harbouring criminals, and in particular criminal relatives, last week, sounds uncannily like they were speaking directly to Jamaicans.Both men stressed the great necessity for citizens to support security officials in their efforts to implement measures and programmes geared at reducing crime and violence in that eastern Caribbean country by turning over criminals to the police and refraining from hiding relatives who break the law.
Mr Harris, also the national security minister, who was speaking at his monthly press conference, stressed that the society needed to "rise to a higher level of engagement and support, in order to rid this country of the scourge of violent crime, gun violence in particular, and criminality in general".
"We need a clear and consistent message to be sent to the criminals that there will be no protection by their family, their neighbours, the churches, the media, by businesses, and political entities. Indeed, there is no hiding place," the prime minister said. We could easily change the name to Prime Minister Andrew Holness, or any other Jamaican prime minister for that matter.
Police Commissioner Queeley, in supporting his prime minister's call, said police there are aware that there are some families in St Kitts and Nevis who harbour relatives whom they know are involved in criminal activities.
"There are parents who are protecting their children by hiding their guns for them, and that's a fact. So we are calling on parents and other family members to ensure that when they know that their children or other family members are involved in crime, they should put an end to that criminality," he said.
It is no secret that many Jamaicans are providing shelter for relatives they know are criminals, including murderers, often washing the blood from their clothes. Some, we are sure, are doing it out of loyalty to family, some because they are benefiting from the ill-gotten gains of thieving relatives, and others out of fear of reprisal.
Whatever is the reason, those who are hiding criminals will understand the error of their ways when they get caught, whether through police action in which they are arrested as accessories to crime, or cronies who come to kill their relatives and hurt them as well.The St Kitts prime minister addressed the issue regarding those who fear reprisal for turning over criminal relatives to the police, saying: "Those who see the crime must report it and, yes, they must be assured that their confidentiality will be protected."
So too did the police commissioner, who reassured members of the public that the Royal St Christopher and Nevis Police Force takes the issue of confidentiality seriously, adding that members of the public can also send anonymous tips to the Crime Stoppers Programme on any criminal activity.
Our own police force must constantly reassure the populace that they are serious about confidentiality. Until people feel safe to report crimes there will always be great reluctance to do so. What's good for St Kitts is also good for Jamaica.
Related Story :
PM HARRIS AND COMMISSIONER SEND CLEAR MESSAGE TO FAMILIES: DO NOT HARBOUR CRIMINAL RELATIVES!