FORMER DPP UNDER INVESTIGATION FOR ALLEGED VEHICULAR FRAUD IN WHITE-COLLAR CRIME PROBE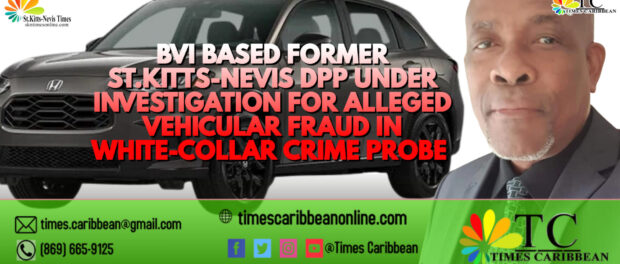 On August 14th, 2023, a significant report was made to the White Collar Crime Unit regarding a case of false pretense. The complaint centered around a vehicle purchase that took place in February 2023.
According to the report, Assistant Commissioner of Police Mr. McCarta Browne had purchased a vehicle from former Director of Public Prosecutions Mr. Valston Graham, formerly of Frigate Bay, who now resides in the British Virgin Islands. A sum of $40,000.00 was exchanged for the vehicle, with Mr. Graham assuring Mr. Browne that he was the sole owner. However, a twist emerged in June 2023 when a representative from the Development Bank of St Kitts and Nevis contacted Mr. Browne. They revealed that the purchased vehicle was the subject of a bill of sale agreement and should not have been sold.
Efforts were made to address the issue, with Mr. Browne reaching out to Mr. Graham to resolve the matter with the bank. Despite assurances, the situation remained unresolved. The bank demanded the return of the vehicle, while Mr. Browne's attempts to contact Mr. Graham yielded no results.
The case has garnered attention from law enforcement, with Supt. Francis being informed. As investigations unfold, this case highlights the intricacies and consequences of false pretense in the realm of white-collar crimes. It underscores the importance of transparent transactions and due diligence, serving as a cautionary tale for both buyers and sellers involved in high-value transactions.