ECCB Names Building in Honour of the Late Sir K Dwight Venner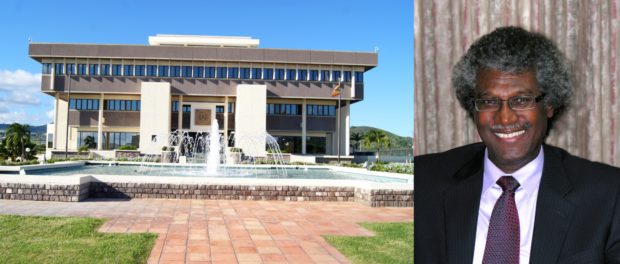 In recognition of the legacy of former Governor of the Eastern Caribbean Central Bank (ECCB), the late Honourable Sir K Dwight Venner, the Bank will name the Phase 1 Building at its headquarters in his honour.
Members of Sir Dwight's family, his close friends and colleagues will join the ECCB Monetary Council, Board of Directors, management, staff and retirees of the Bank for the Naming Ceremony which will be held at the ECCB on 2 March.
Sir Dwight, who has been lauded as a visionary and a champion for regionalism, was the second and longest serving Governor of the ECCB. He joined the Bank in December 1989 and retired in November 2015, giving 26 years of unwavering and dedicated service.
During Sir Dwight's tenure as Governor, the ECCB grew in stature and service. He led several reforms which facilitated the expansion and stability of the ECCU banking and financial system throughout various financial crises. He was also the architect of the ECCB's affiliate institutions namely: the Eastern Caribbean Securities Exchange (ECSE), the most modern in the Caribbean; the Eastern Caribbean Institute of Banking and Finance (ECIB) and the Eastern Caribbean Home Mortgage Bank (ECHMB).
Sir Dwight regarded the Central Bank as an absolute vehicle for the region, to pursue a common destiny as small states and territories.
Sir Dwight passed on 22 December 2016.